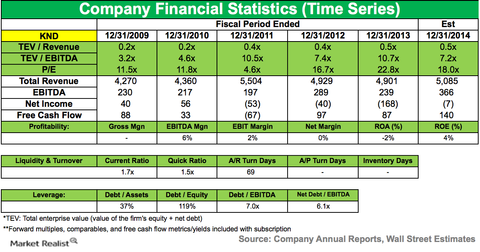 Point72 Asset Management increases position in Kindred Healthcare
By Diana Key

Updated
Point72 and Kindred Healthcare
Point72 Asset Management increased its position in Kindred Healthcare, Inc. (KND). A 13G filing in January noted that the fund owns 5,729,399 shares of the company. This is up from the 1,314,897 shares reported in the fund's 3Q14 portfolio. The filing said the fund owns a passive stake of 8.2% in the company.
Article continues below advertisement
About Kindred Healthcare
Kindred is a healthcare services company. Through its subsidiaries across the United States, the company operates transitional care (or TC), hospitals, inpatient rehabilitation facilities (or IRFs), nursing centers, assisted living facilities, a contract rehabilitation services business, and care management services.
Kindred acquired Centerre Healthcare
On January 2, 2015, Kindred completed its acquisition of Centerre Healthcare with a cash transaction of $195 million. Centerre is a national company that currently operates 11 inpatient rehabilitation hospitals with 612 beds. Kindred expects Centerre to add annual revenue of $200 million.
Article continues below advertisement
Acquisition of Gentiva
In October, Kindred entered into a definitive agreement to acquire Gentiva Health Services, Inc. (GTIV) for $1.8 billion. The combined company is expected to have pro forma annual revenues of $7.1 billion and operating income of ~$1 billion. The combined company is also expected to generate more than $70 million of synergies within two years of closing. Kindred expects the acquisition to be $0.40 to $0.60 accretive to pro forma earnings, on a run rate basis.
Kindred closed $1.35 billion senior unsecured notes offering
With the completion of the offering on December 18, Kindred has all the necessary financing in place to fund the acquisition of Gentiva Health Services, Inc. (GTIV). Kindred expects the transaction to close by February 2, 2015.
Article continues below advertisement
Kindred's 3Q14 revenue is in line with expectations
Consolidated revenues increased 6% year-over-year (or YoY) to $1.24 billion.
Core operating income increased 7% YoY. The increase was driven by improved hospital volumes, strong performance of Kindred at Home operations, growth from acquisitions, and a cost control initiative.
Net income was $1.7 million or $0.03 per diluted share compared to a loss of $16.6 million or $0.31 per diluted share in 3Q13.
The company declared a cash dividend of $0.12 per share.
Narrowed 2014 earnings guidance
The company expects net income for 2014 to be between $59 million and $65 million. The company's estimated dividend payments are expected to be ~$29 million.
Point72's 13G positions
Point72 Asset Management initiated positions in Jones Energy Inc. (JONE), MEI Pharma Inc. (MEIP), and Catalyst Pharmaceutical Partners, Inc. (CPRX).
The fund increased positions in Silicon Motion Technology Corp. (SIMO), RCS Capital Corp (RCAP), Kindred Healthcare, Inc. (KND), Crocs, Inc. (CROX), LogMeIn Inc. (LOGM), Kraton Performance Polymers Inc. (KRA), and Walter Investment Management Corp (WAC).
The fund reduced its position in Clearwater Paper Corp (CLW) and Shutterfly, Inc. (SFLY).
In the next part of the series, we'll discuss Point72's position change in Crocs.