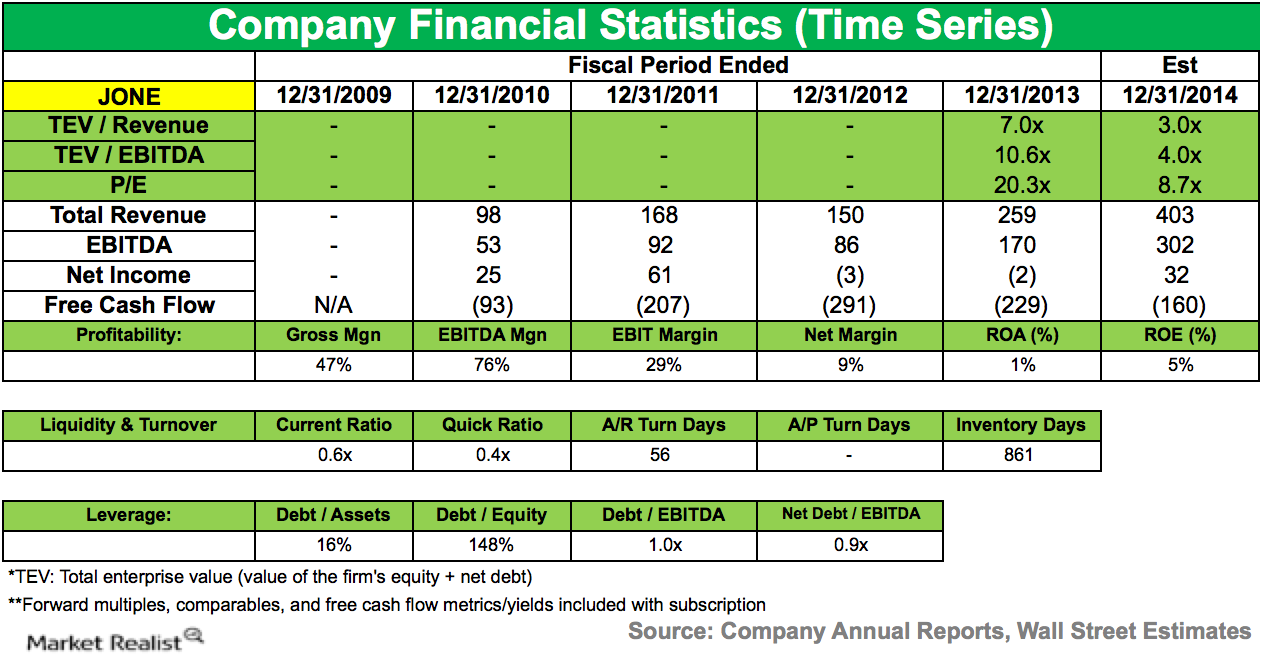 Point72 Asset Management begins position in Jones Energy
Point72 and Jones Energy Inc.
Point72 Asset Management started a position in Jones Energy Inc. (JONE). A 13G filing in January noted that the fund owns 736,200 shares. The filing said the fund owns a passive stake of 5.8% in the company.
Article continues below advertisement
Overview of Jones Energy
Jones Energy is an independent oil and gas company engaged in the exploration, development, production, and acquisition of oil and natural gas properties. It is operational in the Anadarko and Arkoma basins of Texas and Oklahoma. Jones Energy focuses on low-cost drilling and completion methods. It has expertise in horizontal drilling to develop its inventory and execute several strategic acquisitions.
Jones Energy missed revenue estimates in 3Q14
Jones Energy reported revenue of $100.3 million, which missed estimates by $3.9 million.
The company reported net income of $52.2 million. Adjusted net income was $16.3 million.
Average daily net production was 24.5 thousand of barrels of oil equivalent (BOE) per day, up 41% year-over-year (YoY). Cleveland activity drove the company's average production.
Cleveland 20×3 frack trial wells produced on average 9,800 incremental barrels of oil through the first 300 days of production.
Cleveland production was 18.3 thousand BOE per day, up 73% YoY.
The company leased an additional 6,924 net acres since June 30. It provided approximately 50 additional Cleveland net drilling locations.
The company signed a 10-year oil gathering and transportation agreement to transport oil to the Plains and Valero market points. The company expects the gathering system to begin operations during the second quarter of 2015.
The company increased its borrowing base for senior secured revolving credit facility from $550 to $625 million.
The company increased hedge positions for crude oil to 150% of proved developed producing (or PDP) reserves in 2015.
The company spent $131.2 million on capital expenditure, 91% of which was related to drilling and completing wells.
Article continues below advertisement
Guidance
Jones Energy expects total production for fourth quarter to be in the range of 24.5 to 25.0 thousand of BOE per day. For full year 2014, the company expects production to be between 23.0 to 24.0 thousand of BOE per day.
Point72's 13G positions
The fund initiated positions in Jones Energy Inc. (JONE), MEI Pharma Inc. (MEIP), and Catalyst Pharmaceutical Partners, Inc. (CPRX).
The fund increased positions in Silicon Motion Technology Corp. (SIMO), RCS Capital Corp (RCAP), Kindred Healthcare, Inc. (KND), Crocs, Inc. (CROX), LogMeIn Inc. (LOGM), Kraton Performance Polymers Inc. (KRA), and Walter Investment Management Corp (WAC).
The fund reduced its position in Clearwater Paper Corp (CLW) and Shutterfly, Inc. (SFLY).
In the next part of the series, we'll discuss Point72 Asset Management's position in MEI Pharma.