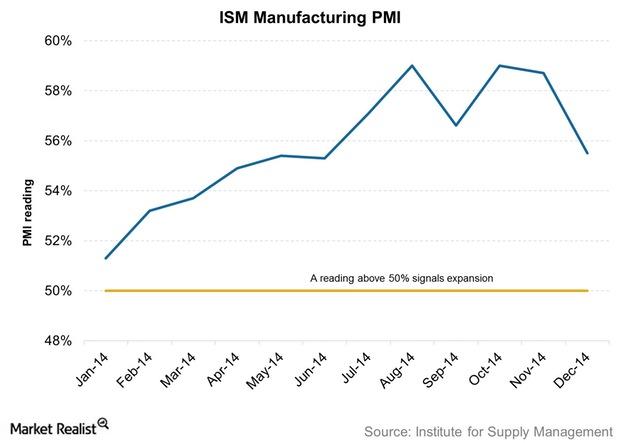 PMI surveys show that manufacturing activity slowed in December
By David Ashworth

Jan. 6 2015, Published 10:34 a.m. ET
ISM report
The ISM (Institute for Supply Management) issued its monthly "Manufacturing ISM Report On Business" on January 2, 2015. It showed that the US PMI (purchasing managers' index) for December 2014 fell to 55.5%—down from 58.7% in November. Last year's average was 55.8%. It had a high of 59%. It had a low of 51.3%.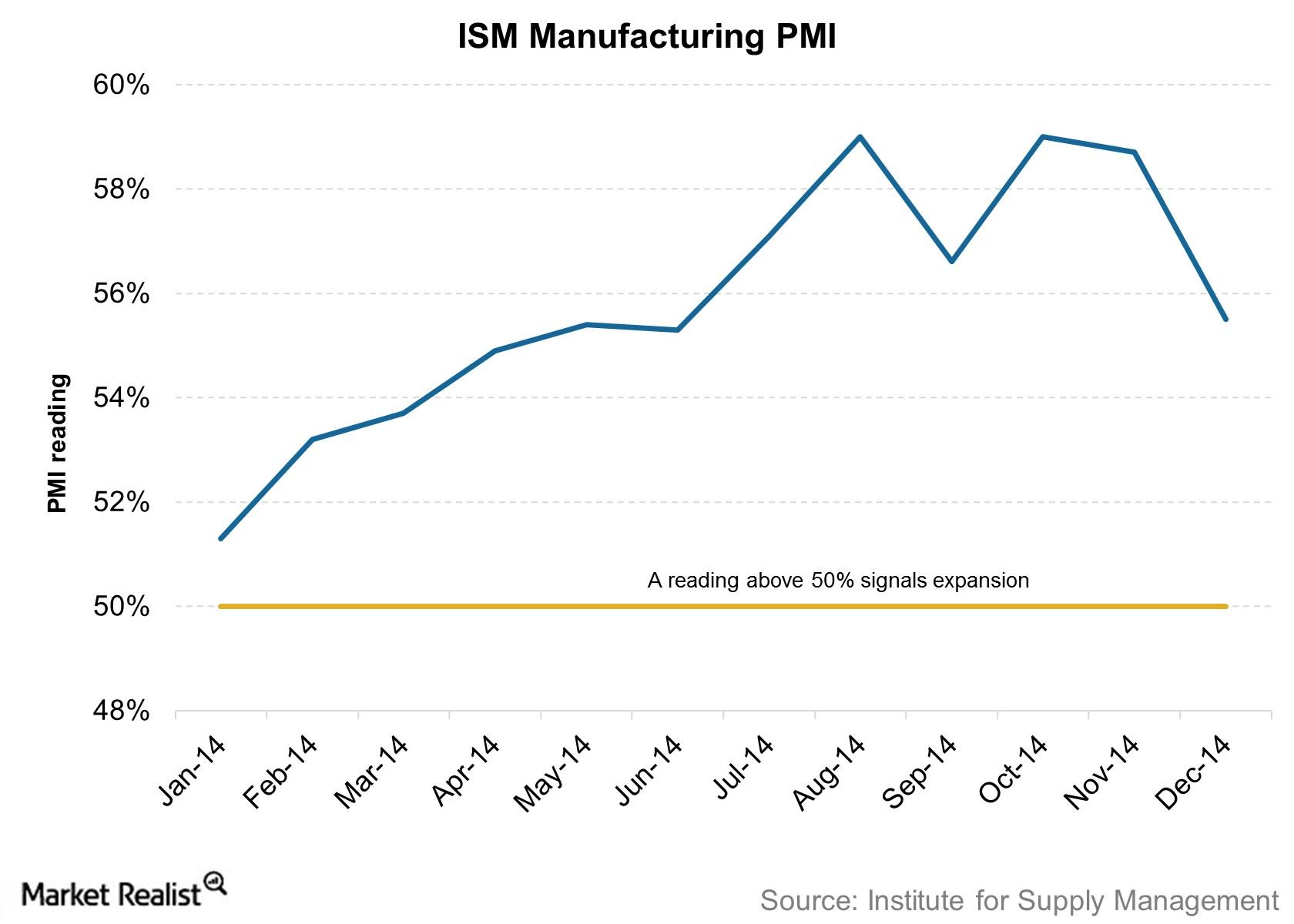 A reading above 50% means a general expansion in manufacturing activity. A reading below 50% means a general contraction. According to ISM, manufacturing activity gained for the past 19 months. ISM stated that a reading above 43.2% indicates an expanding economy—over a period of time. As a result, the latest reading showed that the US economy gained for the 67th consecutive month.
Article continues below advertisement
Markit PMI
Markit is a financial services provider. Another PMI indicator also came out this week. It was released by Markit. The "final" reading for December fell to 53.9%—from 54.8% in November. The final reading is released a week after the "flash" reading. The "flash" reading is an advance indication of the final reading. Markit's PMI is based on the following five individual indices:
New orders – 30% weight
Output – 25% weight
Employment – 20% weight
Suppliers' delivery times – 15% weight
Stocks of items purchased – 10% weight
Even though manufacturing activity continued to expand, it did slow at a more moderate pace—compared to November.
Why is it important
The PMI report is watched closely to see how it impacts the general economy. Although manufacturing hasn't remained as large a component of economic growth as it used to be, it's still a big influence. As a result, broad-market equity ETFs—like the SPDR S&P 500 ETF (SPY), the iShares S&P 500 Growth Index Fund (IVW), and the SPDR Dow Jones Industrial Average ETF (DIA)—watch the report closely. Industrials ETFs—like the SPDR Industrial Select Sector Fund (XLI) and the Vanguard Industrials Index Fund (VIS)—are directly affected by change in manufacturing activity.
In the next part of this series, we'll look at the S&P Case-Shiller indices that released last week.