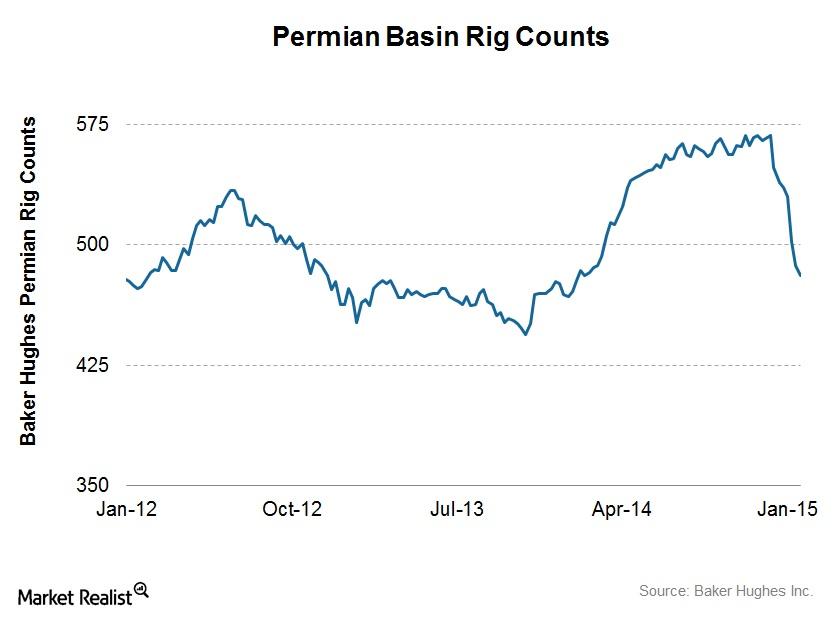 Permian Basin activity: A key indicator of energy sector health
By Alex Chamberlin

Dec. 4 2020, Updated 10:53 a.m. ET
The Permian Basin
The Permian Basin is located in western Texas and southern New Mexico. It generally refers to a combination of the Delaware Basin and the Midland Basin. According to the U.S. Energy Information Administration, the Permian Basin is the largest crude-oil-producing region in the US.
Rig counts in the Permian Basin can gauge upstream companies' drilling activity. These companies include Chevron (CVX), Laredo Petroleum (LPI), Concho Resources (CXO), and Occidental Petroleum (OXY). CVX and OXY together form 16.5% of the S&P Oil & Gas Exploration & Production ETF (XLE).
Article continues below advertisement
Comparing Permian rig counts with others
Currently, there are 1,317 working oil rigs in the US. The Permian Basin has 475 of these rigs, more than any other region. The Eagle Ford has 168 active oil rigs, the Williston Basin has 151, and the Mississippian Lime has 63.
In the past year, the Permian Basin lost two oil rigs. In comparison, 28 oil rigs shut down in the Williston Basin. The Williston Basin includes the Bakken Shale—one of the most prolific crude oil shale plays in the US. The Eagle Ford shale in East Texas lost 21 rigs, while the Cana-Woodford Shale in Oklahoma's Anadarko Basin added 14 oil rigs.
Last week, the Permian Basin's oil rig count decreased by six compared to the previous week. This was the seventh straight weekly decline in the Permian oil rig count and a 1% decline from the previous week. Overall, the weekly US crude oil rig count was down 4%.
Horizontal rigs on the rise in the Permian
Horizontal rigs account for 71% of the Permian Basin's total. Vertical rigs account for 27% and directional rigs account for ~2%. In comparison, on January 27, 2012, there were 474 rigs. Only ~23% of the rigs were horizontal. At the time, rigs in the Permian Basin were mainly vertical. Vertical rigs accounted for ~74% of the rigs in the Permian Basin. Directional rigs accounted for ~3%.
In the next part of this series, we'll discuss how the rig trajectory mix has changed.