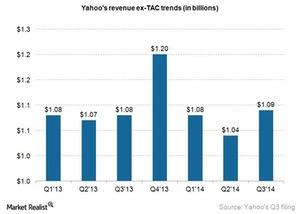 An overview of what to expect from Yahoo's 4Q14 earnings
By Patricia Garner

Nov. 20 2020, Updated 2:10 p.m. ET
Highlights of Yahoo's 4Q14 earnings
Yahoo (YHOO) is expected to announce its fiscal 4Q14 earnings on January 27, 2015. During the fourth quarter, Yahoo was in the news for various acquisitions and deals. The company made the acquisitions and deals to strengthen its position in the digital advertising market.
Yahoo completed the acquisition of BrightRoll on December 15, 2014. It's a leader in the video advertising platform. This collaboration will strengthen Yahoo's strategy for search, communications, and digital content. It will help Yahoo grow in mobile, social, native, and video advertising.
Article continues below advertisement
On November 19, 2014, Yahoo also entered into a five-year strategic partnership with Mozilla. It would make Yahoo the default search engine for Firefox users in the US. Yahoo would be the default search engine for mobile and desktop. The deal with Mozilla would increase Yahoo's search traffic in the US.
Better-than-expected 3Q14 results
Yahoo had robust third quarter results. Its revenue—excluding traffic acquisition costs, or ex-TAC—was $1.09 billion. This beat consensus estimates of $1.04 billion. Its earnings per share, or EPS, was $0.52. It was above analysts' expectations of $0.30.
Now, Yahoo forecasts 4Q14 ex-TAC revenue in the range of $1.14–$1.18 billion. It forecasts GAAP (generally accepted accounting principles) revenue in the range of $1.2–$1.24 billion. Yahoo estimates that mobile will contribute $700 million in GAAP revenue to full-year 2014 results. This means mobile will account for over 15% of the company's revenue in 2014—compared to previous year when Yahoo had immaterial revenue from the mobile segment.
Article continues below advertisement
Yahoo's competitors in the mobile space include Facebook and Twitter. Facebook derives 62% of its overall revenue from mobile ad renewal. Twitter derives 81% of its overall revenue from mobile ad revenue. Yahoo's mobile revenue share is relatively small compared to its peers. However, the company's investments in mobile are finally paying off. This is a good sign for Yahoo.
Revenue driven by mergers and acquisitions
As the above chart shows, Yahoo's revenues increased by 1% year-over-year, or YoY, and 5% sequentially. The growth is attributed to investments in areas like mobile, social, native ads, and video. Yahoo is responding very quickly to the changes in the advertising industry. Even though the growth is small, it shows the result of Yahoo's adaptation to the changing scenario.
The growth areas in the digital advertising world are mobile and video advertising. Yahoo is making progress in these areas. Google (GOOG) (GOOGL), Facebook (FB), and Twitter (TWTR) continue to dominate the mobile advertising market. Yahoo isn't on the list of top players in this market, according to a report from eMarketer.
Yahoo completed dozens of acquisitions in the past two to three years. The acquisitions were in mobile and video advertising. Yahoo is looking for more opportunities to strengthen its lagging advertising sales.
In this series, we'll discuss how mobile revenue contributed to Yahoo's overall revenue.