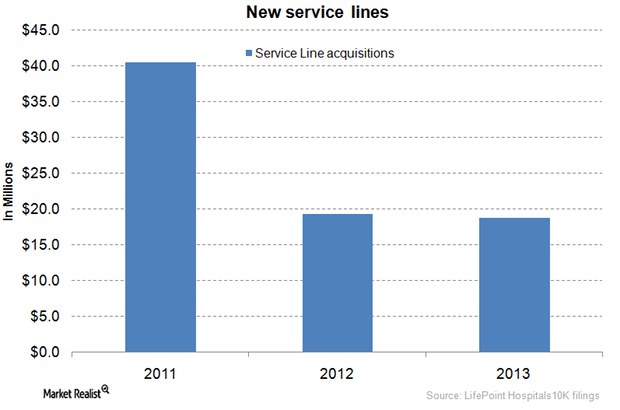 Organic growth strategy at LifePoint Hospitals
By Margaret Patrick

Jan. 26 2015, Updated 12:19 p.m. ET
Organic growth
The healthcare industry, represented by the Health Care Select Sector SPDR Fund (XLV), has adopted several strategies to boost organic growth. The strategies involve physician recruitment, outpatient and emergency services, and information technology initiatives.
Major for-profit hospital operators focus on specific service lines to ensure organic growth. For example, Universal Health Services (UHS) specializes in behavioral health, HCA Holdings (HCA) focuses on emergency services, and Community Health Systems (CYH) concentrates on outpatient services.
LifePoint Hospitals (LPNT) has adopted a four-pronged organic growth strategy to boost its revenues:
emergency service development
talented physician recruitment
profitable service line development
practice management
Article continues below advertisement
Service line
The above graph shows LifePoint Hospitals' investments in ancillary service lines that it's acquired to expand its capabilities in cardiology, surgery, imaging, and oncology. Adding services and recruiting talented physicians is a part of the company's strategy to ensure that patients in rural communities don't migrate to cities to access healthcare services.
LifePoint Hospitals makes use of enterprise data management technologies to identify new trends in revenues and costs related to various service lines. This allows it to focus its efforts on more profitable services.
The company has also adopted emergency department initiatives to boost visits to its emergency. These can translate into new inpatient admissions. For example, LifePoint Hospitals is using technology to reduce patient wait times and is enhancing the quality of emergency rooms. These efforts are expected to improve emergency department visits and increase overall company revenues.
Physician retention strategy
LifePoint Hospitals is mainly recruiting talented physicians for its primary care and surgery segments. The company has introduced on-boarding initiatives for new physicians. It's also supporting its affiliated physicians with the financial and technical expertise required to develop their practices.
Finally, to attract and retain talent, LifePoint Hospitals is making an extra effort to promote flexibility and transparency. For instance, medical staff may event refer patients to competing hospitals if they choose to.