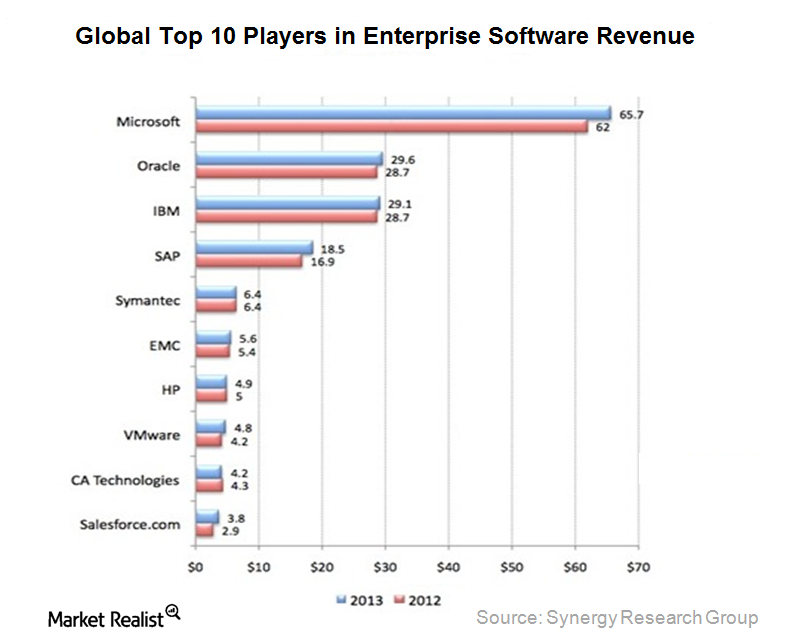 What is Oracle's position in today's technology space?
By Anne Shields

Jan. 6 2015, Updated 11:14 a.m. ET
Oracle becomes the 4th largest technology player
Oracle's strong performance in 2Q15 results led its stock to increase by 10% to $45.37. After the company released its earnings, the stock saw its biggest one-day jump since October 2008, and the company's market cap touched nearly $201 billion.
As of December 23, 2014, the company's market cap rose to ~$204 billion. Oracle thus beat Intel (INTC) in terms of market cap to become the fourth largest Silicon Valley tech player. The top three tech players include Apple (AAPL), Google (GOOG), and Facebook (FB).
Article continues below advertisement
Change in management
Oracle is currently headed by its co-CEOs Safra Catz and Mark Hurd. They were promoted to the top slot in September 2014, as Larry Ellison, Oracle's founder, stepped down as CEO after 37 years. Oracle investors are now wondering what aggressive changes are on the way, especially since Ellison has announced that he is staying to manage Oracle's business operations.
Increased contribution of cloud offerings in overall revenues
In 1Q15, SaaS, PaaS and IaaS products combined accounted for 4% of the total revenues that increased to 5.4% contribution in 2Q15. Increasing contribution of cloud offerings gives hope about Oracle's future growth. As mentioned in the earlier part of the series, Oracle has expanded its cloud portfolio with an addition of diverse offerings. The company is targeting mid-sized businesses and opened a new cloud development center in Toronto.
3Q15 expectations
For 3Q15, Oracle expects revenues to grow in the range of 4 to 8% and expects EPS in the range of $0.69 to $0.74. High volatility in foreign exchange rates will likely hurt 3Q15 revenues and EPS by 4% and 4 cents, respectively.