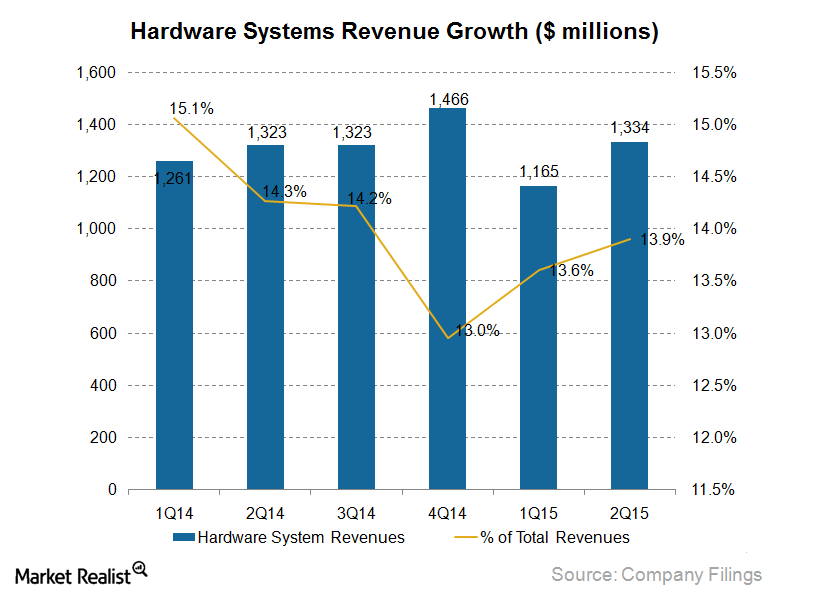 How has Oracle's hardware systems segment performed in 2Q15?
2Q15 registered improved growth in hardware systems
In 1Q15, Oracle's hardware systems revenue fell 8% to $1.2 billion. The segment's contribution to overall revenues is steadily declining. However, in the past two quarters, the segment has shown modest increase. For the six months ended November 30, 2014, hardware systems contributed 14% to overall revenues.
In 2Q15, the segment recovered moderately when the company expected deceleration in 1Q15. In its 1Q15 earnings release, Oracle guided a decline of up to 10% in this segment. In 2Q15, hardware systems registered a marginal 1% growth, or 4% in constant currency.
Article continues below advertisement
Engineered systems growth increased revenue from hardware systems
In 2Q15, hardware systems product revenues and hardware support revenues were $717 million and $690 million, respectively. Engineered systems product category, which is an integral part of the hardware systems division, continued its double digit growth rate. Hardware systems offer Intel (INTC) servers that use SPARC microprocessors, as well as enterprise x86 servers. Oracle's x86 servers are compatible with Oracle Solaris, Oracle Linux, and Microsoft Windows (MSFT).
In March 2014, Oracle's ex-CEO Larry Ellison mentioned that engineered systems account for more than 30% of hardware product sales and analysts expect this contribution to rise to 50% in the future. In 2Q15, bookings for Exalogic, SuperCluster, and big data appliance engineered systems grew more than 50%, which helped engineered systems to post good growth.
For 3Q15, Oracle's hardware revenue estimates are between negative 2% and positive 8% in constant currency.