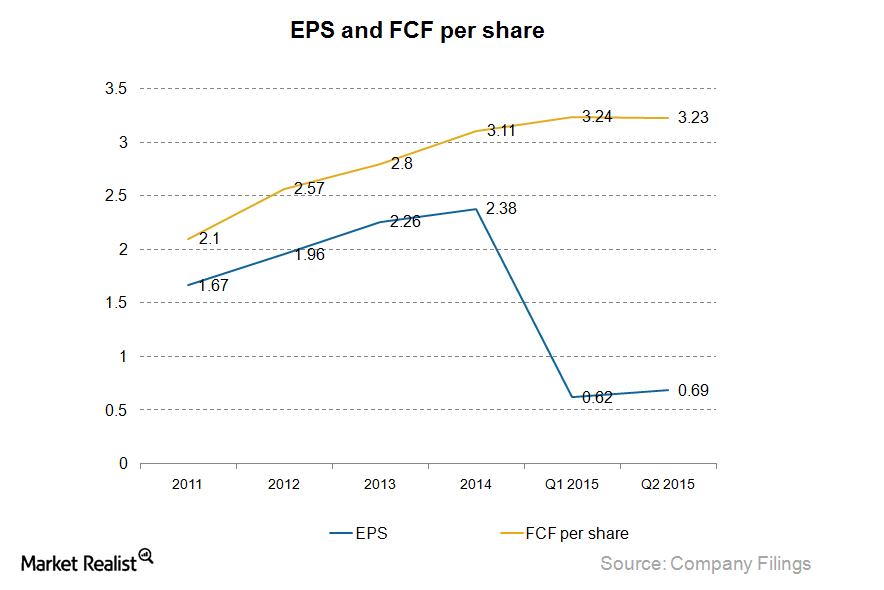 Does Oracle's cash and cash flow support its dividends?
Oracle's share buybacks and dividends
In its 1Q15 quarterly results, Oracle (ORCL) announced the addition of $13 billion to its buyback plan. For the six months ended November 30, 2014, Oracle spent $4.1 billion to repurchase 101.6 million shares. In 2Q15, Oracle also declared a quarterly cash dividend of $0.12 per share.
The company beat analyst estimates on the revenue and profit front, which led its stock prices to increase. Its market cap increased to $203 billion and it overtook Intel's (INTC) position as the fourth largest technology player. Plus, Oracle is second, behind Microsoft (MSFT), in the enterprise software market according to revenues.
Article continues below advertisement
Cash, debt, and cash flows
In 2Q15, Oracle generated $14.5 billion in free cash flows (or FCF). As of November 30, 2014, Oracle has cash equivalents and short-term reserves of $44.73 billion and total debt of $32.5 billion. FCF as a percentage of net income from the last five quarters has been in the range of 128% to 135%. In 2Q15, FCF as a percentage of net income stood at 133%.
Free cash flows to fund share repurchases
In 2Q15, Oracle reported operating cash flows of $7.8 billion. Decent cash reserves coupled with a steady increase in cash flows supports higher dividends and share buybacks, which shows Oracle's potential to increase shareholder remuneration in the future.