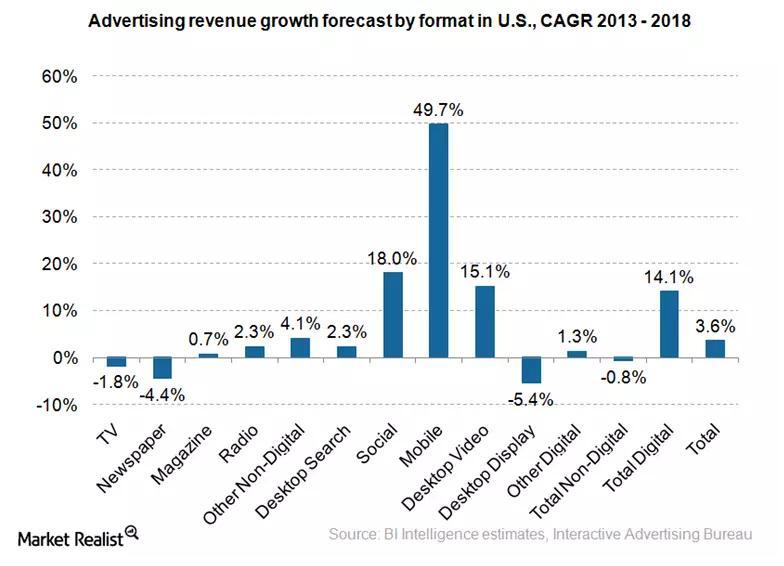 Online advertising will outpace traditional advertising
By Patricia Garner

Nov. 20 2020, Updated 3:32 p.m. ET
Growth of online advertising
Internet advertising is by far the fastest-growing medium. Industry analysts expect Internet advertising to increase by 17% in 2014, as improving digital advertising technology makes Internet advertising cheaper and more effective, while traditional methods will see a decline. According to Zenithoptimedia, the global advertising market will grow 5.3% in 2014, up from 3.9% in 2013.
Improved advertising formats make Internet display more interactive and effective, with consumers more likely to view, remember, and interact with them than older formats like TV, radio, and print media. Also, technological advancements in media buying space are helping advertisers to reach the target audience at the right time with the right message at an efficient price. The penetration of mobile devices will further fuel the growth of online advertising over traditional formats.
Advantages of online advertising over traditional methods of advertising are:
The Internet provides a wide range of advertising information across different geographies, regardless of time.
An unrestricted amount of information can be distributed over the Internet without additional costs and expenses.
Online rich media ads are more engaging and effective.
Article continues below advertisement
Digital advertising will replace traditional ad formats
Mobile, social, and video have emerged as the major growth areas in the advertising world. According to a report from BI Intelligence and as the above chart shows, the mobile advertising market should grow at a compound annual growth rate (or CAGR) of about 50% between 2013 and 2018.
Meanwhile, the social and desktop video advertising markets should grow at 18% and 15% CAGRs, respectively. The report also predicts that non-digital markets like TV and newspaper advertising markets will continue to decline.
The above chart also suggests that we can expect Google's (GOOG) revenue growth to remain healthy. However, Google does have serious competitive threats from other Internet companies like Facebook (FB) and Amazon (AMZN), which are planning to take away Google's business by building their own advertising products. Read more about this in why Facebook and Amazon are trying to cut Google's ad business.
Overall, the increasing competitive challenges to Google don't bode well for ETFs like the Technology Select Sector SPDR (XLK) and the PowerShares QQQ Trust (QQQ). These funds have high exposure to Google.