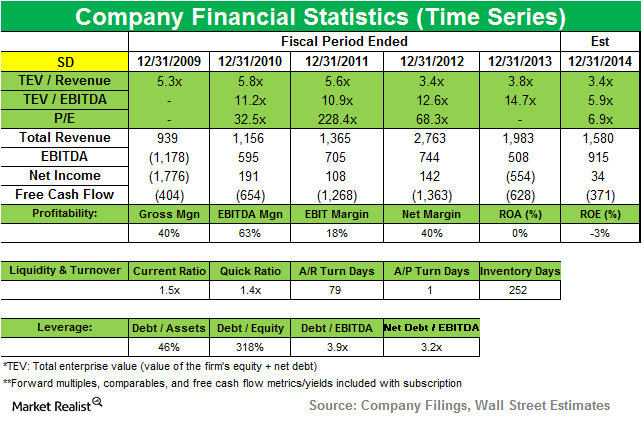 Omega Advisors trims stake in SandRidge Energy
By Samantha Nielson

Feb. 5 2015, Updated 11:05 a.m. ET
Omega's 13G filings since October
Omega Advisors added to its position in Atlas Energy LP (ATLS) and Altisource Portfolio Solutions (ASPS). It disclosed stakes in Aspen Group (ASPU), Resource America, Inc. (REXI), and Arbor Realty Trust, Inc. (ABR). It trimmed positions in Chimera Investment Corporation (CIM), SandRidge Energy, Inc. (SD), and Harbinger Group (HRG).
Article continues below advertisement
Omega Advisors and SandRidge Energy
Leon Cooperman's Omega Advisors trimmed its position in SandRidge Energy, Inc. (SD) this month. The fund said it holds 32,162,580 shares via an amended 13G filing this month.
The shares account for a 6.63% stake in SandRidge. This is down from the 45,477,334 shares per the fund's 13F for the third quarter that ended in September 2014. We noted earlier this month that hedge fund TPG-Axon also reduced its SandRidge stake in December 2014.
Overview of SandRidge
SandRidge Energy (SD) is an oil and natural gas company with exploration and production activities in the Mid-Continent region of the United States. The company also operates businesses and infrastructure systems, including gas gathering and processing facilities, marketing operations, a saltwater gathering system, an electrical transmission system, and a drilling and related oil field services business.
Article continues below advertisement
SandRidge's exposure to falling oil prices
SandRidge has exposure to falling oil and gas prices. The company aims to reduce oil and natural gas price risks by entering into derivative contracts, which helps it reduce commodity price volatility.
The company is also focused on lowering well costs. On its earnings call, the company said it's reducing its "2015 CapEx from the previously indicated $1.55 billion level."
Omega Advisors' Leon Cooperman said in a CNBC video interview in December, "If present prices persisted for several years SandRidge's survival would be an issue. So, I haven't added to it and it has become a smaller part of my portfolio because of the big price decide. But we still own it."
Wunderlich Securities' analyst Jason A. Wangler was cited as saying, "Our thesis remains unchanged given the low oil price environment as SandRidge's high debt level, declining liquidity position, and difficult economics cause us to believe there remains downside to the story."
SandRidge restated 3Q14 earnings
SandRidge released its earnings for 3Q14 in November 2014. However, the U.S. Securities and Exchange Commission (or SEC) asked it to reassess penalties paid under an agreement with Occidental Petroleum Corporation. SandRidge is required to pay a penalty fee to Occidental when SandRidge misses its minimum required carbon delivery volume targets.
Shares rose 15% earlier this month after SandRidge updated its 3Q14 results, complementing operational results reported in November 2014. SandRidge's (SD) shares declined 78% in the past 12 months and 67% in the past three months.
The next part of this series will highlight Omega Advisors' position change in Harbinger Group (HRG).