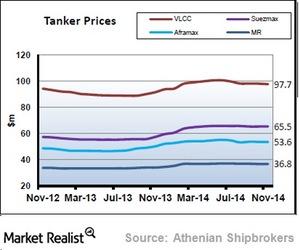 Nordic's expanding Suezmax vessel base supports growth
By Katie Dale

Updated
Two new Suezmax vessels
In December 2014, Nordic American Tankers (NAT) announced that it had entered into a preliminary agreement with Sungdong Shipbuilding & Marine Engineering Co., Ltd., a highly regarded Korean shipyard, to build two Suezmax tankers of 158,000 deadweight tons. The ships will be delivered to NAT in the third quarter of 2016 and the first quarter of 2017. The purchase price of the two new vessels is in the region of $65 million each.
Article continues below advertisement
"This is an important step forward for Nordic American," said Herbjørn Hansson, the chairman and CEO of Nordic American Tankers. "By adding two more ships, we increase the dividend capacity and bolster our earnings potential. We believe that our solid balance sheet as well as our well-defined and transparent operating model are elements supporting the competitive position of the company."
Supply and demand for Suezmax vessels
The Suezmax tanker fleet is not growing at this time and could shrink over the next few years. The rates the tankers achieve are a result of supply and demand for vessels. The improved rates earned in third quarter of 2014 have continued into the fourth quarter of 2014.
The improved rates are also a reflection of higher total fleet utilization. Based on the world Suezmax tanker orderbook, analysts expect supply to remain constrained in the near term, which is positive for Nordic.
Nordic comments that with improving fundamentals, there are positive signs in the market for Suezmax tankers and also VLCCs (or very large crude carriers). A lower oil price is contributing positively to the company business, as are the effects of changing trade patterns and constrained Suezmax tanker supply growth.
These trade patterns also benefit crude tanker companies in the industry (SEA) like DHT Holdings (DHT), Teekay Tankers (TNK), Frontline Ltd. (FRO), and Tsakos Energy Navigation Ltd. (TNP).