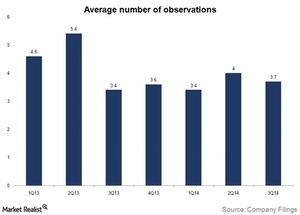 Nordic American's operating model and performance
By Katie Dale

Updated
Nordic's operating model
Nordic American Tankers has an operating model that is sustainable in both a weak and a strong tanker market. Accretive fleet growth and quarterly dividend payments are central elements of the strategy.
NAT's fleet portfolio comprises of only Suezmax vessels, which can carry one million barrels of oil. The makeup of the fleet helps in reducing costs, as similar costs would get divided by a larger number of similar vessels. According to the company data, this leads to a low cash-breakeven cost at almost $12,000 per day per vessel, which is low for the industry (SEA), which includes peers like DHT Holdings (DHT), Teekay Tankers (TNK), Frontline Ltd. (FRO), and Tsakos Energy Navigation Ltd. (TNP).
Article continues below advertisement
Net asset value (NAV) is a measure that is linked to the steel value of each individual ship, and has no relevance when it comes to valuation of Nordic as an ongoing business. Also, newbuild vessel prices determine the net asset value of fleets. The key for the company is to generate returns for its shareholders.
Sound operational performance and a top-quality fleet
Nordic is focused on maintaining the technical quality of the fleet, and its operational performance remains at the forefront of the industry. Inspections in 3Q14 stood at an average of 3.7 observations, which is an excellent result and can be considered an industry best practice. In 2Q14 and 3Q13, observations stood at 4.0 and 3.4, respectively.