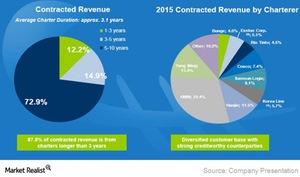 How Navios Maritime Partners manages and increases is fleet
By Katie Dale

Updated
Multiple avenues of growth
Navios Maritime Partners (NMM) has multiple ways of growing its fleet size and distributions, including Navios Group vessels, purchase options from group companies, and opportunities in the S&P market. On the contrary, industry (SEA) peers like DryShips (DRYS), Diana Shipping (DSX), Safe Bulkers (SB), and Navios Maritime Holdings (NM) have only one growth avenue in the S&P market.
Since its IPO in May 2007, the company has grown its distribution by 26.4% and fleet capacity by over 400% with the support of the above-mentioned ways. Additionally, the company has also enabled purchase options that it had on its chartering vessels. The company says that in recent times it has been very active in the sales and purchase market, and it plans to continue to use this market to improve its fleet as opportunities arise.
NMM has a strong relationship with key participants and strong creditworthy counter-parties like Bunge, Cargill, Cosco, Exelon, HMM, Rio Tinto, and Yang Ming in the dry bulk industry. The company charters have an average remaining contract duration of 3.1 years.
Article continues below advertisement
Replacement policy
NMM has already acquired six dry bulk vessels since 2013 and through late 2014. Therefore, the company already has replacements for the dry bulk vessels with an average age of 2.8 years. NMM might sell some of its oldest dry bulk vessels, as it has bought new dry bulk vessels at very low prices.