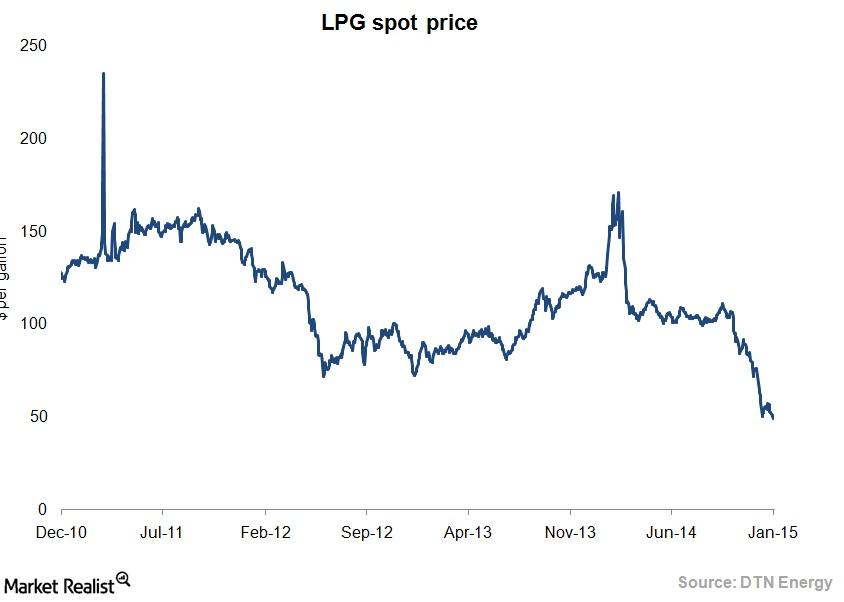 Navios Maritime Midstream may enter LPG market
By Katie Dale

Nov. 20 2019, Updated 12:48 p.m. ET
Navios Midstream and LPG shipping
Navios Maritime Midstream Partners (NAP) may enter into the LPG (or liquified petroleum gas) shipping market, which is a highly competitive and cyclical market. Currently, the company's fleet does not contain any LPG tankers. The Navios Group does not have experience in the LPG shipping market, and it may or may not see success, as competition in the operation of LPG carriers is intense.
NAP's growth depends partially on its ability to succeed in the LPG market, which depends on supply and demand growth for LPG products and LPG shipping. These activities were adversely affected by the sharp decrease in world trade that the global economy experienced in late 2008 and 2009.
Article continues below advertisement
High-risk competition
Navios Maritime Midstream Partners anticipates that an increasing number of maritime transport companies, including many with strong reputations and extensive resources and experience, will enter the LPG shipping market. Potential competitors may have significantly greater financial resources than NAP does.
Competition for the transportation of LPG depends on the price, location, size, age, condition, and acceptability of the vessel to the charterer. Further, competitors with greater resources may have larger fleets or could operate larger fleets through consolidations, acquisitions, newbuildings, or pooling of their vessels with other companies. These advantages enable Navios Midstream's peers to be highly competitive and offer better charter rates.
Challenges and solutions
As a result, NAP may find it challenging to obtain customers in the LPG shipping market on a profitable basis, if at all. Historically, the international LPG shipping market has been volatile in profitability, charter rates, and vessel values, which can adversely affect business during market downturns.
NAP seeks to enter the LPG market, which is a risk that the company is taking against other experienced peers such as Teekay Tankers (TNK), Teekay Corporation (TK), and Scorpio Tankers (STNG). These competitors have experience in the LPG market and have better financial resources in the industry. Meanwhile, NAP's current fleet operates in an industry (SEA) with peers like Frontline Ltd. (FRO), Nordic American Tankers (NAT), and Capital Product Partners (CPLP).