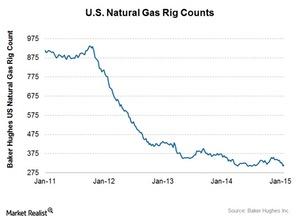 Natural gas rig count may raise energy investor hopes
Gas rig count up
In the US, the natural gas rig count was 316 for the week ending January 23—up by 6 compared to the previous week. In the major basins, the key additions occurred in the "other" basins category. The number of gas rigs decreased by four there. "Other" rigs are those in smaller basins or those that don't fall within a specific geographic basin.
Natural gas rig counts have been on a downward trend for about three years. Meanwhile, the gas-targeted rig count seemed to be stabilizing before last week. It increased ten times in the last 15 weeks.
Energy investors have been negatively impacted by the turmoil in the crude oil sector. Last week's gain may renew investor expectation of a turnaround.
Article continues below advertisement
Gas rigs down in the past year
The number of natural gas rigs decreased throughout most of 2014. Last year, there were 356 natural gas rigs. Currently, there are 316 rigs. This is a decrease of 40 rigs, or ~11%. In the same period in 2014, weekly natural gas rig counts dropped by 78, or ~22%.
The number of natural gas rigs in operation suggests how major natural gas producers may feel about drilling these days. These include producers such as Southwestern Energy Company (SWN), Devon Energy (DVN), Chesapeake Energy (CHK), and Cabot Oil & Gas (COG). DVN, CHK, and COG account for 3.5% of the SPDR S&P Oil & Gas Exploration & Production ETF (XOP).
Natural gas rigs in major US shales
In the last year, most of the natural gas rig decline occurred in the Eagle Ford, where gas rigs fell by 13. In the Barnett and Cana-Woodford shales, the number of rigs fell by 5 and 11, respectively. In the last year, the Granite Wash added 13 rigs to its natural gas rig total, the most of any drill site.
The one-year drop in natural gas rigs continues a downward trend that began in late 2011. Natural gas rigs topped 930 in October 2011.
In the next part of this series, we'll discuss drilling activity in the Permian Basin.