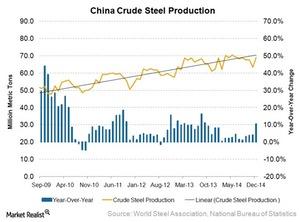 Monthly crude steel production's YoY growth – 2014 declined
By Katie Dale

Nov. 20 2019, Updated 12:55 p.m. ET
Crude steel production
For dry bulk shipping investors, one of the major factors to watch out for is China's crude steel production. Iron ore is the main ingredient for manufacturing steel. China is the largest producer and consumer of the two commodities.
Dry bulk shipping companies—like Safe Bulkers, Inc. (SB), Knightsbridge Tanker Ltd. (VLCCF), Navios Maritime Holdings (NM), and DryShips Inc. (DRYS)—and the Guggenheim Shipping ETF (SEA) may be negatively impacted with negative year-over-year, or YoY, growth.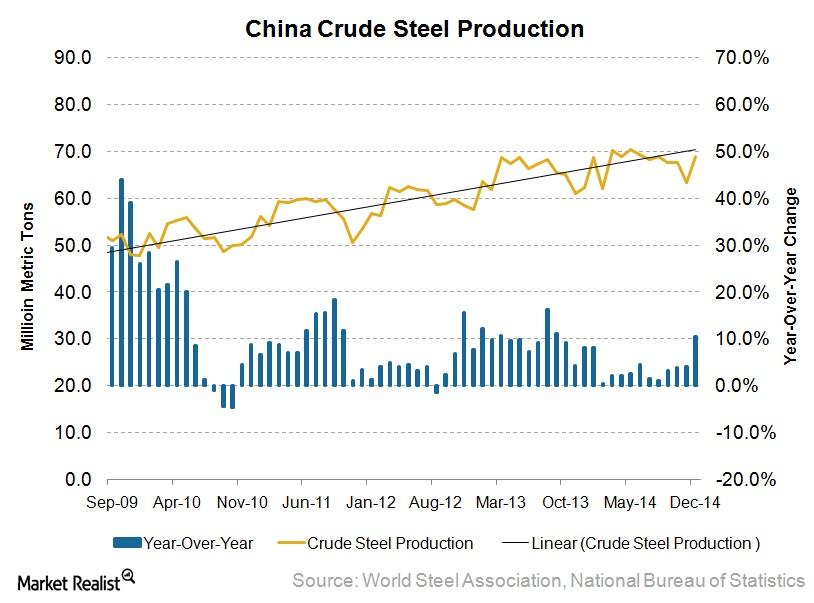 Article continues below advertisement
Crude steel output
The National Bureau of Statistics revealed that the December crude steel output in China increased 7.6% to 68.09 million tonnes. This was mainly due to steel mills resuming production after the enforced cuts in the northern regions. On a YoY basis, steel output was up 1.5%.
In 2014, China's production dipped to its slowest growth pace. This highlighted how China's vast steel complex has been dented by Beijing's push for a cleaner, consumption-led economy. China's vast steel complex produces half of the world's steel.
Industry analysts forecasted the steel slowdown. Mainly, it was led by the Chinese government's effort to consolidate industry overcapacity and force older mills to produce more value-added and less polluting products.
Looking ahead
The low growth rate suggests that China's authorities have had some success in their efforts to lower production and close polluting plants. However, analysts warned about possible upward revisions to the 2014 data. They still forecast a small rise in output in 2015.
"We still expect a marginal growth in steel production this year as Beijing has sped up approvals of infrastructure construction projects," said Sara Wang—an analyst with MasterLink Securities in Shanghai.
Crude steel production is driven by the raw input of iron ore. In the next part of this series, we'll discuss China's iron ore imports. We'll see how it impacts shipping.