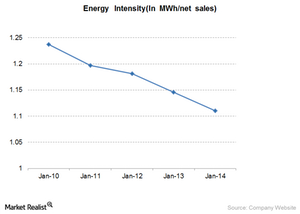 Mohawk Industries drives growth by reducing energy consumption
By Adam Rogers

Feb. 2 2015, Updated 5:05 p.m. ET
MHK focuses on energy consumption
In order to increase its bottom line and decrease its carbon footprint, Mohawk Industries (MHK) is focusing on optimizing overall energy consumption while also seeking alternative, economical, cleaner-burning fuels. As a vertically integrated manufacturer, MHK has ample opportunities to do both.
MHK primarily targets reductions in the energy intensity of manufacturing and distribution processes via proven technologies and innovative solutions that transform energy use in its operations. In the process, MHK also is able to reduce its emissions intensity.
During 2013, these techniques enabled MHK to reduce its energy intensity by 2.9% from 2012 levels. In turn, the 2013 progress contributed to a 7.3% cumulative reduction from its 2010 baseline.
Article continues below advertisement
Similarly, the firm's GHG (greenhouse gas) emissions fell 2.15% from 2012 to 2013 and 7.52% from the 2010 baseline. As these businesses are further integrated and MHK has the opportunity to further share best practices and processes, it looks forward to continued improvements in energy and carbon footprint reduction.
New acquisitions benefit from energy savings
As a result of MHK's acquisition of Marazzi in 2013, Mohawk now operates three ceramic plants in Europe that produce their own electricity via co-generation from natural-gas-powered turbines. In 2013, these plants produced 59,880,574 kilowatt hours of electricity, enough to power 5,525 average US homes for a year.
The firm's commercial carpet tile manufacturing plant in Glasgow, Virginia continues to stand out in environmental improvements and has reduced GHG emissions by 30%.
Article continues below advertisement
Another Virginia carpet plant, in Hillsdale, is also realizing the benefits of switching fuel sources for its boiler. This plant was able to switch from diesel to natural gas power by partnering with a local county industrial development authority to tap into a major natural gas pipeline approximately four miles away. The switch resulted in a 14.5% GHG reduction during 2013, with an expectation to nearly double that reduction for the full year of 2014.
In product distribution, MHK continued its policy of leasing late model vehicles, which often provide greater fuel economy than older vehicles. While not all of Mohawk's leased trucks go into road operations, analysts estimate that MHK consumed 110,000 fewer gallons of gasoline through fuel economy improvements to its fleet.
Additional 2013 measures included a program to monitor and reduce vehicle idle time, as well as equipping long-haul trailers with side skirts. These skirts improve trailer aerodynamics, increasing fuel efficiency by up to 4% on longer trips.
Viking Global's other positions