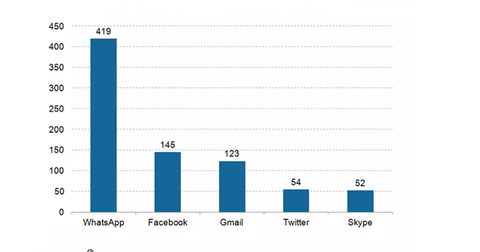 Microsoft Windows 10 OS will impact the company's future prospects
By Anne Shields

Updated
Free download of Windows 10 within the first year
On January 21, 2015, Microsoft (MSFT) announced that the Windows 10 operating system will arrive in late 2015. There will be a free update to Windows 7, Windows 8, and Windows 8.1. It can run on phones, tablets, laptops, and conference room touch TV. It's a free, one-time upgrade from Windows 7 or Windows 8 to Windows 10. It includes free future updates.
The Windows 10 operating system is expected to launch in late 2015. After the end of the one-year window, if the users wish to continue using Windows they have to pay for it. Microsoft still generates the majority of its revenue from Windows. As a result, it's important that the Windows 10 operating system is a success. This crucial for Microsoft's growth.
Article continues below advertisement
There are many new features in Windows 10. We'll discuss the features in another series. Also, Microsoft is integrating Skype directly into Windows 10—as seen in the above chart. The end result is comparable to Apple's (AAPL) iMessage service.
If Microsoft's Windows 10 is widely accepted, it will benefit Microsoft investors. It will also benefit ETFs—like the Powershares QQQ Trust ETF (QQQ) and the Technology Select Sector SPDR Fund (XLK)—that have high exposure to Microsoft.
Microsoft intends to expand its customer base
With Windows 10, Microsoft intends to bring all of its various operating system efforts—Windows for desktop, Windows Mobile, Xbox, and even the long forgotten Windows RT—into a structured, cohesive portfolio. It wants to create a broader base of potential customers.
Windows 10 is expected to have a positive impact on the less mobile PC industry. PCs still play an extremely important and vital role for most people. However the same can't be said in the mobile space. As we saw earlier in this series, it's hard for Microsoft Windows mobile to overcome Google's (GOOG) (GOOGL) lead. Google's Android and iOS lead in mobile.