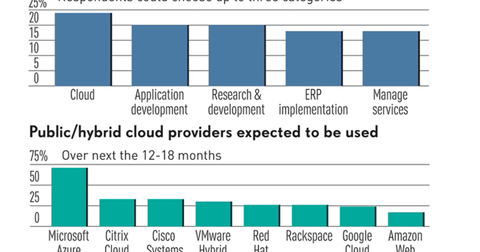 Microsoft is poised to benefit from cloud infrastructure growth
By Anne Shields

Updated
Cloud infrastructure market is poised for huge growth
According to Goldman Sachs, in 2014, cloud infrastructure—IaaS (Infrastructure-as-a-service) and PaaS (Platform-as-a-service)—accounted for ~5% of the enterprise IT spending. The cloud infrastructure share is expected to more than double to reach 11% by 2018. The cloud infrastructure market is expected to grow from $16 billion in 2014 to ~$43 billion in 2018. This is a compound annual growth rate, or CAGR, of 30%.
Since Microsoft's (MSFT) current CEO, Satya Nadella, took the reins, the company focused on pushing its other offerings—like Azure and Xbox—apart from Windows.
Article continues below advertisement
Microsoft Azure is preferred over its peers
In December 2014, Cowen & Co. surveyed organizations about their IT spending priorities for 4Q14. As the above chart shows, the survey results indicated that cloud computing tops the highest spending priority for the enterprises. This trend will likely benefit Microsoft. It's positioned to be the top beneficiary of this trend.
Out of all the companies, 71% of IT buyers chose Microsoft Azure offerings over its peers—compared to 68% in 4Q13. As we discussed earlier in this series, Microsoft Azure has a competitive edge over its peers—due to its features.
In 2014, Microsoft's cloud revenue hit an annual run rate of $4.5 billion. Microsoft pushed to get its cloud offerings to reach as many users as possible—regardless of operating systems. Also, Microsoft Azure had a triple-digit growth rate. It appears that Microsoft will benefit from the cloud trend.
Microsoft rules the cloud operating systems' space
The survey highlights that Microsoft topped the list for cloud operating systems. Companies are currently using the system or intend to use it in the near future for their in-house cloud platforms. Microsoft topped the list with 71%. It's followed by Hewlett-Packard's (HPQ) Eucalyptus at 51%. In terms of hybrid cloud providers, apart from Microsoft, Citrix Systems (CTXS), Cisco Systems (CSCO) and VMware (VMW) are the other leading players.