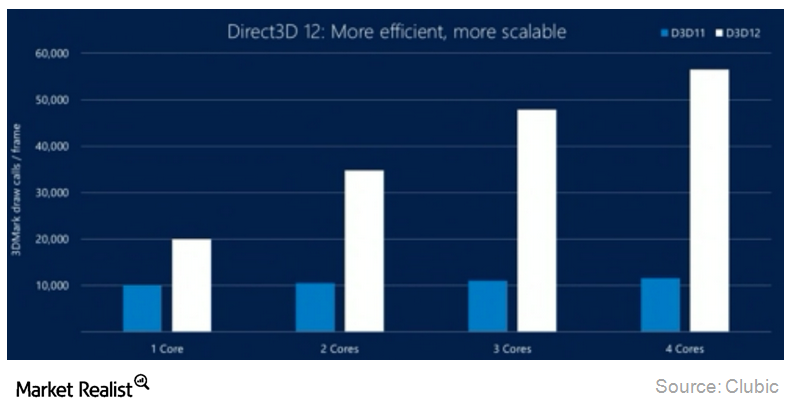 Microsoft announces DirectX 12 for Windows 10
By Anne Shields

Feb. 3 2015, Updated 2:05 p.m. ET
Microsoft announced the arrival of Direct X12 in early 2014
In its Game Developer Conference, Microsoft (MSFT) announced its DirectX 12 that will be built into Windows 10. DirectX 12 is the latest generation of the company's graphics application program interface (or API ) that has found its way to PCs (personal computers), handhelds, and Xbox One games console.
DirectX12 is expected to offer a huge improvement over its predecessors since it exposes low-level hardware functionality through an industry standard API in order to give developers more control and efficiency.
If Microsoft's DirectX 12 posts good results, it will not only benefit its investors but also ETFs such as the Powershares QQQ Trust (QQQ) and the Technology Select Sector SPDR Fund (XLK), which have 8.00% and 9.61% exposure to Microsoft, respectively.
Article continues below advertisement
DirectX12 API for Windows 10
DirectX is the API that powers the majority of PC games. DirectX is Microsoft's portfolio of programming interfaces for gaming and video. It was first released in 1995 as the Windows Games software development kit.
Adoption of DirectX was initially lukewarm. However, DirectX 2.0 eventually became a part of Windows 95. In the Windows 10 live event, Microsoft announced that its latest operating system, Windows 10, comes with DirectX 12.
DirectX12 is compatible across various architectures
Intel (INTC) said its fourth-generation Core processors are compatible with DirectX 12 at launch. The most important improvements may affect lower-power Intel CPUs (central processing units), thanks to improved power management.
DirectX 12 supports Nvidia (NVDA) architectures Fermi, Kepler, and Maxwell as well as future ones. Qualcomm's (QCOM) management stated that DirectX12 is the missing link between console and mobile.