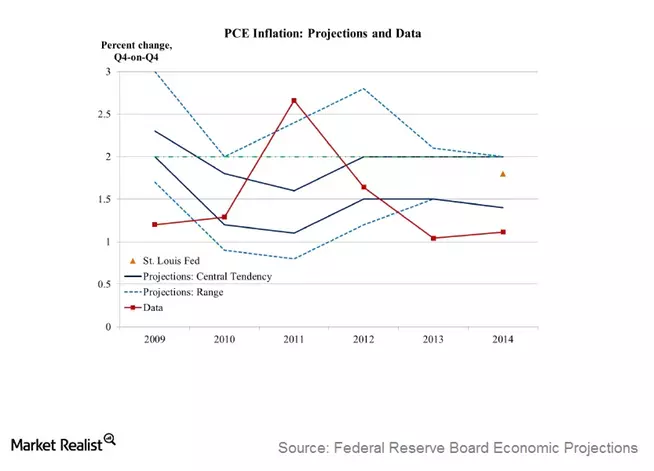 Market Realist Chronicles: Bill Gross
By Liam Odalis

Nov. 20 2019, Updated 2:34 p.m. ET
Bill Gross and the prudent investor
When Bill Gross issues a statement predicting a market reversal, it commands attention. Whether in agreement or disagreement, his logical framework can educate even the most educated. But investment management is a business. Gross's job is not just to make prudent market calls, but also to attract capital into his newly launched fund at Janus after he left PIMCO (or was ousted, depending on whom you ask).
Article continues below advertisement
A manager's assets under management (or AUM) have become the first question for managers lately, while track record comes second. That doesn't mean that Gross is wrong when he states that safe-haven fixed income products will outperform risk assets in 2015. But those products are primarily what his fund invests in.
Gross does add tremendous credibility to his assertions by reportedly investing $700 million of his own money into his new fund. It is, however, interesting to note that this amount also pushed the fund's AUM above the crucial $1 billion marker—a magnet for institutional consideration.
You can contrive nothing from these purely circumstantial events, but prudent investors question everything. If investment management were a science, everyone would do it in the exact same way and be profitable. So we're obligated to understand Gross's statements and cross-check assumptions. That being said, his fears are well founded—even though we're not in mania territory yet. Whether or not we reach mania will in large part depend on how the central bank handles the timing of a rate increase. Gross's warning that investors should accept low returns in 2015 is justified. But his assertion that the value of Fed policy has run its course and that the bottom will drop out may not be.
Article continues below advertisement
Gross begins a recent newsletter by essentially labeling the current market as a "mania," which comes close to describing it as a bubble without actually saying the word "bubble." It would be too early to call it a bubble. Bubbles are pervasive and societal. We've seen this pervasiveness before during the tech and real estate implosions, when cab drivers and waitresses were quitting their day jobs to day-trade or flip condos. I haven't heard one cab driver mention the markets recently, and New York City cab drivers are very knowledgeable. That being said, equity fundamentals are at or above historic highs.
Evidence of exuberance?
As we discussed in our previous Market Realist Chronicles letter, median PE ratios are stretched to postwar highs. Another dramatic upswing in equity prices would send multiples even higher, into speculative territory. High valuations don't mean that markets will collapse, but Gross is justifiably intimating that asset prices have been on the rise due to cheap credit. This view is evidenced by some excesses within the M&A (mergers and acquisitions) market. 2014 had a noticeable spike in the dollar value of the average deal as well the total dollar value of deals made. Share buybacks are on the rise, a key concern for Gross. Real estate is also on the rise. With these industries, profitability increases as the cost of financing decreases. Cheap credit buys you expensive stuff.
Article continues below advertisement
It's not the long stretch of equity market returns that's making Gross call the top of the market. What he's truly concerned about is that growth has been driven by cheap credit and hasn't produced enough demand, that its bang for the buck will erode to a point where risk takers just don't bother. Has there been evidence of that scenario? Yes and no. That scenario may be too early to call.
Evidence of less bang for the buck in the economy:
rising asset prices with stagnant to falling ROE (even in the lone emerging bright spot, India)
median NYSE PE ratios at postwar records (as we explained in our previous Chronicles letter)
a low growth, disinflationary (deflationary commodity-exporting nations) environment, along with a

n observed divergence between:

asset prices

global PMIs (except for India)
market ROE
However, the economy continues to produce jobs at an adequate pace and underemployment continues to decrease. A key concern for economists is not just whether there are more jobs, but whether those jobs are full-time or part-time. Drilling down on these numbers, we can see that employment in finance continues above trend. Typically, a divergence between job creation in the finance sector and asset prices serves as the canary in the coal mine before asset prices begin to fall.
Gross also expresses skepticism regarding the source of the economy's growth, characterizing it as a "finance-driven economic cycle," meaning the source of its fire is coming from above (cheap credit), not below (strong production).
Article continues below advertisement
Certainly, leading economies are in a deflationary, low-growth environment where the access to cheap credit has failed to produce the type of growth we saw pre–credit crisis. To make things worse, we're experiencing a global oversupply in commodity markets. Both energy and agricultural are oversupplied, exacerbating the currency pressures on emerging markets. But PMI indicators suggest a slowdown—not a contraction. The economy is still expanding, albeit at a modest pace. There's too little information to determine impending doom.
Change in Composite PMI (Markit) as of 12/31/2014
QoQ
YoY
Brazil
-1.4
-2.5
China
-0.9
0.2
Russia
-3.7
-5.3
India
1.1
4.8
European Union
-0.9
-1.2
Germany
-2.1
-3
United Kingdom
-2.3
-3.9
United States
-5.5
-2.6
Jumping the gun to call a top because of uncharted territory for the Fed ignores the Fed's track record
Gross's concerns of a market fueled by access to cheap credit are nothing new. Investment managers have been fighting the tide, looking for the music to stop, almost throwing their arms up in the air for a while now. Each time they miss and underperform, in large part due to their underestimating the ability of central bankers to manage the "New Normal." Gross, along with the plethora of well-paid investment managers who underperformed the markets last year, pore over the same backward-looking data that Gross accuses the Fed poring over, and so far, central bank policies have been successful.
Article continues below advertisement
The Fed's collective knowledge has increased, which is why Bernanke was able to understand that the lack of credit in the economy is what caused and prolonged the Great Depression. Bernanke knew to douse the economy with credit, like water onto a fire. Central bankers are much better at what they do now than they were in the past, with many more resources at their disposal. Too many investment managers are too quick to publicly degrade their capabilities. You need to give credit where credit is due. The Fed's winding down of QE3 was as good as it gets. A constant stream of communication to the markets showed a deeper understanding of markets. More importantly, the Fed didn't end stimulus ahead of time, but only when it lost its efficacy, making sure the economy would stand on its own two legs. This showed that the Fed learned from its previous mistakes of pulling the trigger early.
The biggest trader in the room is the central bank. Accounting for its presence is crucial to any forecast, and Gross is betting against the Fed.
It's interesting to note that Gross places himself in the same bucket as Ray Dalio, who personally wrote a memo loudly applauding the job Ben Bernanke had done to stave off certain economic collapse. "Beautiful de-leveraging," as only Dalio can explain it, occurred in the US precisely because of the guiding hands of prudent central bankers who have learned well from their predecessors. "Ugly de-leveraging" is what we've seen in Europe, with painful austerity measures not solving anything.
Article continues below advertisement
An academic's favorite phrase: "In the long run"
Gross's belief that markets can stretch into irrational territory is well justified when you look at historic market tops. Are we stretched to irrational levels? The question, which he adroitly refrains from answering, is when exactly will the market top occur? "In the long run" doesn't cut it. People don't pay fees to managers for predicting the obvious, which always occurs in the long run. If this occurs in November of 2015, as Gross said may happen, then he's not really calling the shot here. Eventually, in the long run, markets top out, then bottom out, but as the saying goes, "In the long run, we'll all be dead."
During the last market top in 2008, key economic indicators began to diverge from the performance of equity indices. We're just not seeing that right now. When an economy is moving forward, it creates jobs, and we are creating jobs. It was the canary in the coal mine then, and it will be again, but that bird is continuing to sing.
The economy isn't dead as long as:
jobs continue to grow above trend
underemployment continues to decrease below trend
Gross maintains that it's difficult to time these things as markets get stretched to the upside and downside due to the irrational thought process of the crowd, or animal spirits. This kind of jargon gets very murky very fast—and almost esoteric. Everyone knows that a growing economy produces jobs, which is where we stand right now.
Article continues below advertisement
Gross' thesis on what can occur as credit reaches the potency of cash at the zero bound for interest rates was extremely well phrased and accurate. We've seen continuous stimulus simply not work before, with Japan being a clear example. Interestingly, the US and Japan are the two largest borrowers in the world. But comparing Japan with its structural ailments and its aging, closed-off population to the US (a much more dynamic and remarkably nimble economy) is like comparing a lion to a house cat.
For the cheap credit trick to work, its target economy has to be ready, willing, and able to turn that credit into growth. The US is such a market.
Can asset prices rise dramatically this year? Probably not. Will there be blood on the streets? Probably not. More likely, asset prices will be range-bound with the US as the desired destination. How the Central Bank handles 2015 as it enters uncharted territory will be key, and with PCE below target, the Federal Reserve will not raise rates more than 0.25% in 2H15 anyway. The ECB on the other hand, will probably go the other way…