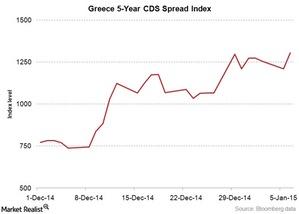 Spreads widen, stocks down as market reacts to crisis in Greece
By Surbhi Jain

Updated
Credit default swap spreads widen
Credit default swaps, or CDSs, are securities used to hedge against a government defaulting on its debt. The spread on these securities is determined by the probability that the government will default. The higher the chances of the government defaulting on its obligation, the higher the premium charged, and the higher the spread.
Article continues below advertisement
CDS spread widens as threat of default looms over Greece
In Greece, spreads on the CDS securities shot up in response to the December 29 snap election results. The five-year Greece CDS spread index, which stood at 1,066.2 index points on December 26, breached the 1,200 index points mark on December 29, recording a 1,296.62 level. From a 465 level in mid-September, a jump from 555 points to 725 points in mid-October, and a 1304 index level on January 6, 2015, spreads on Greek CDS securities have been stratospheric.
Stocks slide in Greece
Greek (GREK) markets reacted in a big way to the December 29 election results. The benchmark Athens Stock Exchange equity index dropped 3.9% and was down to 819.8 index points on December 29 from an earlier close of 853.2 on December 23.
The Euro Stoxx 50 Price Index, which measures broader market performance across Europe, also shed about 50 points, or 0.23%, on December 29. The drop in index performance indicates rising investor fears with respect to investments in Greek companies, as well as worries about the possible repercussions of Greek political unrest in the Eurozone.
The SPDR EURO STOXX 50 ETF (FEZ) tracks the Euro Stoxx 50 Price Index. Other ETFs such as the Vanguard FTSE Europe ETF (VGK), the iShares MSCI EMU ETF (EZU), and the iShares Europe ETF (IEV) track broad market performance in the Eurozone.
Outlook on Greece
There is a lot of uncertainty in Greece currently—lots of questions waiting to be answered.
Will the Syriza party come to power on January 25? Would that mean the end of austerity measures in Greece, as proposed by that party's leader, Alexis Tsipras? How does the Syriza party intend to maintain the country's position in the Eurozone currency union, if it shirks its bailout requirements?
As of this date, investor concerns are running high about whether or not Greece will stay or leave the Eurozone currency union. If Greece leaves the Eurozone, the European economy as a whole would take a massive hit. An exit by Greece could even prompt other economically distressed European countries such as Spain and Portugal to follow suit.
For a more detailed analysis on Greece's economic and political situation, read our series, How Greece's political crisis may impact your investments in the Eurozone.