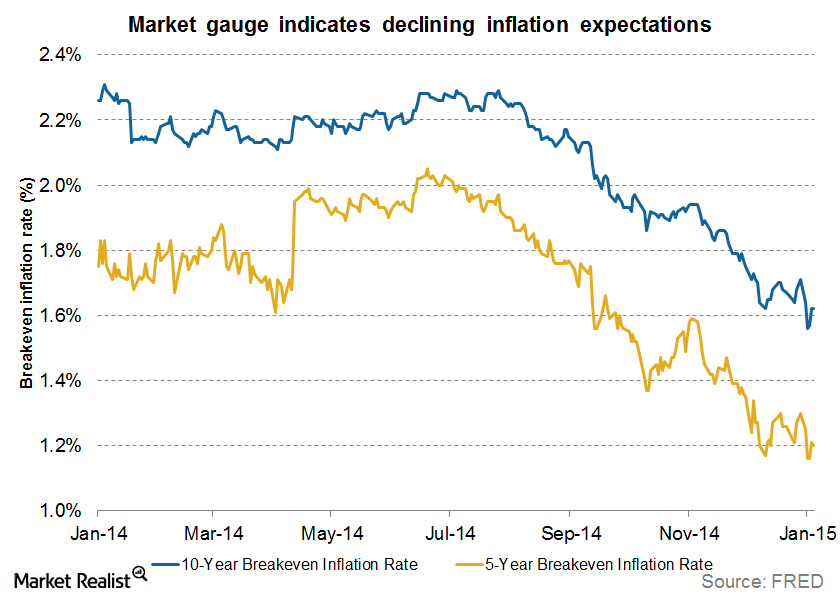 Market-based estimates indicate declining inflation
By Russ Koesterich, CFA

Jan. 22 2015, Updated 4:25 p.m. ET
Market-based estimates in the form of the bond market offers more clues on inflation expectations with "breakevens," the difference between nominal yields and yields on inflation-linked bonds (or TIPS). Inflation expectations in the medium term can be measured—going five years in the future—with the closely watched five-year forward breakeven rate. Since holding at a stable 2.5% early in the year, the indicator dropped below 2% in August. Even though 2% is the long-term goal, the Fed would like to see higher medium-term inflation expectations before removing the unprecedented post-crisis stimulus.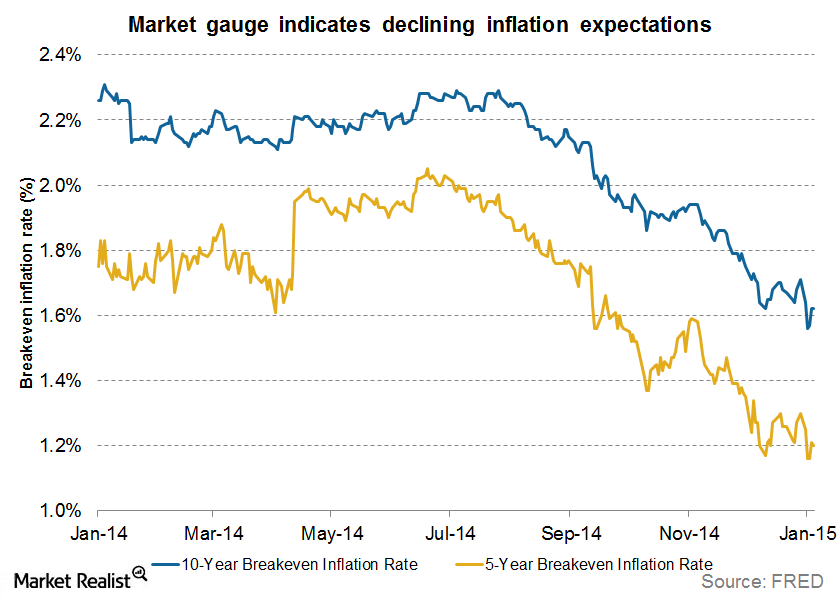 Market Realist – The previous graph shows the five-year iShares TIPS Bond ETF (TIP) breakeven and ten-year TIPS breakeven rates over the past year. Both market-based estimates indicate investors' inflation expectations, which have been falling steadily throughout the year.
The five-year inflation breakeven rate is currently hovering around 1.2%, while the ten-year breakeven rate is about 1.6%.
According to Crédit Agricole, another market-based estimate called the five-year forward, the five-year breakeven rate plummeted last week to 1.86%, its lowest level in almost 14 years. The gauge measures the annual inflation expectations of investors between 2020 and 2025.
According to Charles Evans, president of the Federal Reserve Bank of Chicago, the United States might not achieve the target inflation rate of 2% until as late as 2018. Evans thus favors hiking rates only in 2016.
Article continues below advertisement
Eric Rosengren, Boston Fed president, says the current low levels of inflation provide ample justification for caution and patience when it comes to an interest rate hike. However, the Fed has indicated that a rate hike may very well come even at the current muted levels of inflation as long as growth and inflation expectations hold up.
Inflation is one of the biggest headwinds faced by the Fed for a less accommodative monetary policy. A rate hike is likely to be accompanied by a rise in yields of Treasuries (TLT) (IEF) and other fixed-income instruments (BND).
Low inflation is likely to preserve the value of both short-term (SHY) and long-term fixed income instruments and keep yields low. The rate hike is likely to increase volatility (VXX) in the US equity markets (SPY) as well.