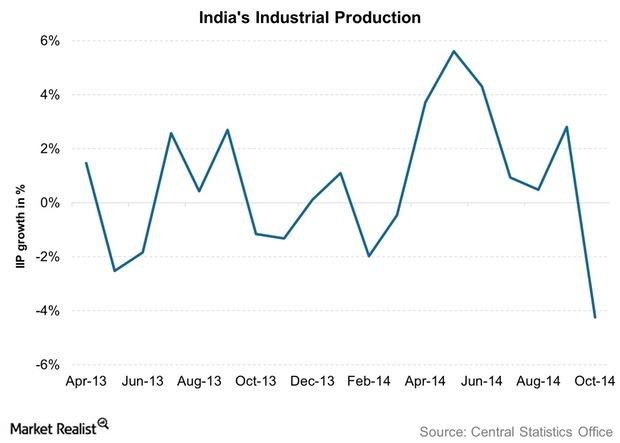 "Make in India" could impact India's industrial production in 2015
By David Ashworth

Jan. 9 2015, Updated 4:46 p.m. ET
What's the IIP?
Industrial production is measured by the Index of Industrial Production, or IIP. The index tracks 682 items under three sectors:
mining
manufacturing
electricity
Manufacturing has the highest weight at 75.5%. It's followed by mining at 14.2%. The IIP is a monthly indicator. It's released with a one month lag—for example, the release in January will be for November. To learn more about India's IIP, please read Why India's industrial production is important.
Article continues below advertisement
The IIP is a volatile indicator. From April 2011 to its latest release for October 2014, the indicator saw a low reading of -5% and a high reading of 9.5%. Due to this volatility, it doesn't give policymakers a clear picture of industrial growth's direction. So, why is it important to monitor this indicator?
"Make in India" campaign
It's important to monitor this indicator because of Prime Minister Narendra Modi's "Make in India" campaign. This campaign aims to make India a global manufacturing hub. It will cater to domestic and international needs. The government summarized the program's objectives. It said, "The Make in India program includes major new initiatives designed to facilitate investment, foster innovation, protect intellectual property, and build best-in-class manufacturing infrastructure."
Why you should watch for industrial production
With a renewed focus on manufacturing, the government is expected to take several measures to spur the slow growth in the industrials sector. To learn more about India's industrials sector, please read Why India's industrials sector had stunted growth.
After big promises in 2014, it's time for the government to meet its promises. In 2015, the government is expected to make major announcements for the industrials sector.
Apart from broad-based India ETFs—like the WisdomTree India Earnings Fund (EPI), the PowerShares India Portfolio (PIN), and the iShares MSCI India ETF (INDA)—announcements in this space will directly affect companies that make up the EGShares India Infrastructure ETF (INXX).
Also, for US companies present in Indian real estate—like CBRE Group (CBG) and the diversified Caterpillar Group (CAT) that operates under its CAT and Hindustan brands in India—a booming industrials sector would mean profitable business.
In the next part of this series, we'll look at a measure of manufacturing activity.