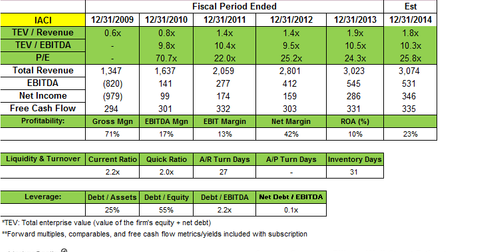 Luxor Capital starts position in IAC
By Adam Rogers

Updated
IAC/InterActiveCorp position
Christian Leone's Luxor Capital Group initiated a position in IAC/InterActiveCorp (IACI) during the third quarter of 2014. The position comprised 2.40% of the fund's total 3Q14 portfolio, per 13F filings.
Article continues below advertisement
About IAC
IAC/InterActiveCorp is a leading media and Internet company founded in 1995. The company focuses on the areas of search, applications, online dating, and e-commerce. Fortune magazine ranked IAC as one of the most admired Internet services and retailing companies in the world.
IAC's network of sites gets over one billion monthly visits from people in more than 100 countries and is the 13th largest network in the world. Headquartered in the Chelsea neighborhood of New York City, the company has business operations and satellite offices around the world.
Acquisition of Ask.fm
IAC's Ask.com acquired Ask.fm for an undisclosed sum in August 2014. Ask.fm is a Latvia-based question-and-answer website.
The founders of Ask.fm will be leaving the company as part of the acquisition. Then, Ask.com CEO Doug Leeds will take over the management of the firm. This will enable Ask.com to enter the social networking space after years of competing with Google in the search engine domain.
Ask.fm has recorded an average of 180 million monthly users from over 150 countries. 42% of those users were under the age of 18.
Article continues below advertisement
3Q14 results
In October 2014, IAC reported third-quarter revenues of $782.2 million, up 3% from the same period last year. Net income increased significantly from $96.9 million in 3Q13 to $326.8 in 3Q14.
IAC declared a quarterly cash dividend of $0.34 per share, payable on December 1, 2014, to IAC stockholders of record as of the close of business on November 15, 2014.
As of September 30, 2014, IAC had $1.1 billion in cash, cash equivalents, and marketable securities. The company also held $1.1 billion in long-term debt. IAC possessed $300 million in unused borrowing capacity under its revolving credit facility.
Luxor Capital's other 3Q14 positions
Luxor Capital's other new positions in 3Q14 included Cheniere Energy Inc. (LNG) and Workday Inc. (WDAY). The fund sold its stakes in Melco Crown Entertainment (MPEL), Yahoo! Inc. (YHOO), and Apple Inc. (APPL). Luxor Capital increased its positions in 21st Century Fox (FOX), Searchlight Minerals (SRCH), and Conn's Inc. (CONN), while it decreased its positions in AMC Networks (AMCX) and RCS Capital Corp. (RCAP).
The next article in this series will explore Luxor Capital Group's new position in Cheniere Energy.