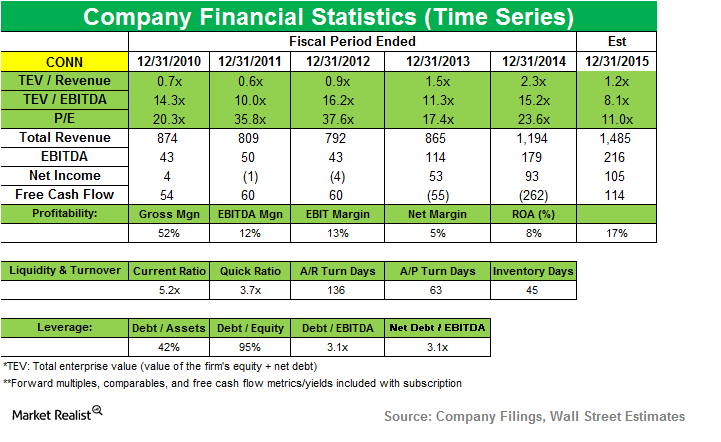 Luxor Capital Group increases position in Conn's Inc.
By Adam Rogers

Feb. 2 2015, Updated 5:05 p.m. ET
Conn's Inc. position
Luxor Capital Group upped its stake in Conn's Inc. (CONN) during the third quarter of 2014. Amended 13D filings in September noted that the fund currently owns 7,586,197 shares. This is an increase of 4,640,329 shares since the end of June. The filing said the fund has a 20.9% stake in Conn's. Luxor's 13D filing noted that the fund acquired shares of Conn's for investment purposes.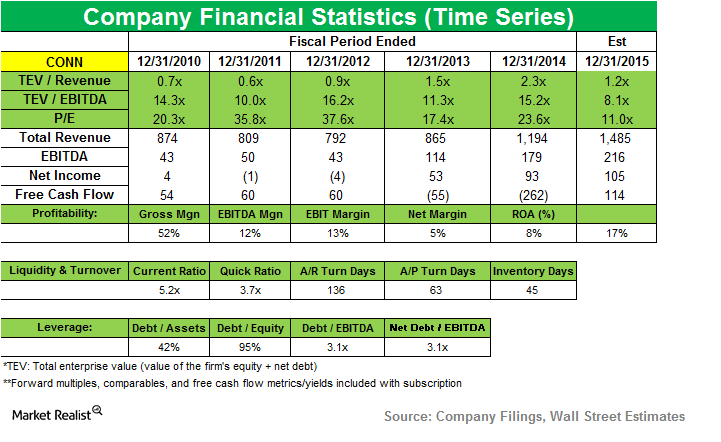 Article continues below advertisement
About Conn's Inc.
Conn's is a leading specialty retailer that offers a broad selection of quality, branded durable consumer goods and related services. The company also provides a proprietary credit solution for its core credit-constrained customers. Complementary product offerings include home appliances, furniture, mattresses, consumer electronics, and home office products from leading global brands across a wide range of price points.
As of July 31, 2014, Conn's was operating 86 retail locations in Arizona, Colorado, Louisiana, Mississippi, Nevada, New Mexico, Oklahoma, South Carolina, Tennessee, and Texas.
Luxor Capital's amended 13D 
In October 2014, Luxor Capital filed an amended 13D with the US Securities and Exchange Commission. In the filing, the activist hedge fund changed the purpose of its acquisition of 1.95 million shares of CONN in September.
Currently, Luxor Capital owns 20.9% of CONN common stock, and the fund has not revealed any specific plans for the investment. However, the recently changed transaction purpose might point to just that.
Per the 13F filing, Luxor Capital held just 2.95 million shares of Conn's Inc. in 2Q14. The fund started accumulating shares during the third quarter of 2014 when the price of the stock fell from $50 to $30 levels.
Article continues below advertisement
An ideal takeover target
Since the start of 2014, CONN's stock price has declined by over 60% and is currently trading at 10.79 times earnings. This is significantly lower than the price-to-earnings ratios for most of CONN's peers in the specialty retailing industry.
Currently, institutional investors own over 90% of CONN's common stock. This is due to the low valuation at which CONN trades, making it an ideal takeover target.
CONN believes its "operating performance has improved significantly over the past four fiscal years as a direct result of management's execution of its strategies, including the expansion, consolidation, and remodeling of the store base; improved assortment of furniture and mattresses; increased market penetration in the appliance category; leverage of growing purchasing power; and the investment in customer awareness and relationships."
Other 3Q14 positions for Luxor Capital
Luxor Capital's new positions in the third quarter included IAC/InterActiveCorp (IACI), Cheniere Energy Inc. (LNG), and Workday Inc. (WDAY). The fund sold its stakes in Melco Crown Entertainment (MPEL), Yahoo! Inc. (YHOO), and Apple Inc. (APPL). Luxor Capital increased its positions in 21st Century Fox (FOX) and Searchlight Minerals (SRCH), while it decreased its positions in AMC Networks (AMCX) and RCS Capital Corp. (RCAP).
The next article in this series will explore Luxor Capital Group's position in AMC Networks.