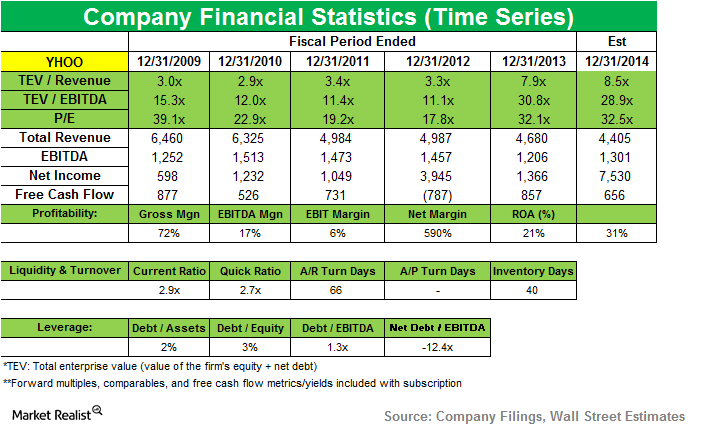 Luxor Capital exits position in Yahoo! Inc.
Yahoo! Inc. position
Luxor Capital Group sold its stake in Yahoo! Inc. (YHOO) during the third quarter of 2014. The position accounted for 3.86% of the fund's total 2Q14 portfolio, per 13F filings.
Article continues below advertisement
About Yahoo! Inc.
Together with its consolidated subsidiaries, the global technology company Yahoo! Inc. provides a range of products and services, many of them personalized:
search
content
web communications tools
mobile communications tools
The company earns revenue largely by advertising to its 800 million monthly users through various products and platforms.
Possible acquisition of AOL
In November 2014, activist investor Starboard Value asked YHOO's CEO Marissa Mayer to consider acquiring AOL (AOL) with the firm's remaining cash balance. Starboard believed that a combined entity of YHOO and AOL would be able to challenge the dominance of Google and Facebook in the digital advertising market.
The merger would also create synergies in video and content. However, the combined entity would still be slow-growing. The hedge fund suggested that the merger could result in "monetization of Yahoo's non-core minority equity investments in a tax-efficient manner." Starboard hinted at a potential separation of YHOO's core and non-core businesses to unlock value.
Article continues below advertisement
Tumblr acquisition
The acquisition of Tumblr has not boosted Yahoo's position in the digital ad space. eMarketer said in August that Tumblr's user base in the US rose 46.2% in 2013, totaling 13.7 million Internet users. The market research firm expected Tumblr usage to grow by a further 25% in 2014.
However, eMarketer stated that Yahoo's display advertising revenues had fallen by 7% during the second quarter of 2014. Also, eMarketer indicated that Yahoo's share of the US digital display ad market could decline to 5.8% in 2014.
Facebook Inc. (FB) and Google Inc. (GOOG) were leading the US digital display ad market. Meanwhile, Twitter Inc. (TWTR) had major growth prospects in 2014.
If YHOO were to monetize its non-core minority investments in Alibaba and Yahoo! Japan and then deliver the value directly to shareholders without receiving any additional cash proceeds, YHOO would still have $7 billion in cash and cash equivalents. Yahoo would also have significant debt capacity that the company could use towards future capital needs for investments or acquisitions.
Other Luxor Capital 3Q14 positions
Luxor Capital's new positions in the third quarter included IAC/InterActiveCorp (IACI), Cheniere Energy Inc. (LNG), and Workday Inc. (WDAY). The fund sold its stakes in Melco Crown Entertainment (MPEL) and Apple Inc. (APPL). Luxor Capital increased its positions in 21st Century Fox (FOX), Searchlight Minerals (SRCH), and Conn's Inc. (CONN), while it decreased its positions in AMC Networks (AMCX) and RCS Capital Corp. (RCAP).
The next article in this series will explore Luxor Capital Group's position in 21st Century Fox.