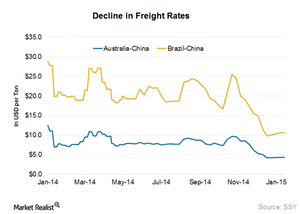 Lower freight rates lend help to iron ore plays
By Anuradha Garg

Updated
Shipping costs fall along with the price of iron ore
Shipping costs have fallen right along with falling price of iron ore. China's slowing demand is sapping demand for cargoes, which thus negatively impacts shipping rates.
Brazilian cargoes have a greater impact on freight rates since Brazil is three times farther from China than Australia. It takes 35 days to ship ore from Brazil to China, according to Axsmarine.com.
The Baltic Dry Index (or BDIY), a measure of shipping costs for dry goods, fell 1.6% to 814 points this week. This marked the longest run of declines since August 2012.
Article continues below advertisement
Charter rates for the Western Australia-China route fell to $4.58 per tonne on January 7, the lowest level since December 2008. Rates for the Brazil-China route were down to $10.22 per tonne on January 7, the lowest since January 2009. Freight rates could drop further, according to Fearnley Shipping, a Norwegian ship broker.
Lower freight rates help iron ore companies engaged in seaborne iron ore trade, including BHP Billiton (BHP), Rio Tinto (RIO), Vale S.A.( VALE), and the Australian division of Cliffs Natural Resources (CLF).
Of all the iron ore companies, Vale is the largest beneficiary of lower freight rates. This is because it operates out of Brazil, which is farther from China than Australia, and lower freight rates are much more pronounced there.