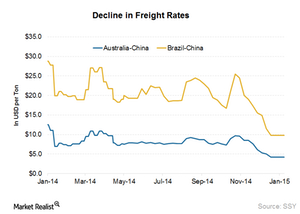 Why lower freight costs impact iron ore miners differently
By Anuradha Garg

Nov. 20 2019, Updated 2:31 p.m. ET
Locational disadvantage
Vale (VALE) has always been at a disadvantage to other iron ore companies—including BHP Billiton (BHP) and Rio Tinto (RIO)—because of its geographic location. Asia, particularly China, is the largest single consumer for these seaborne iron ore players. Brazil, where Vale operates, is three times as far from China as Australia. This leads to repercussions for Vale in terms of a significant difference in freight costs. As a result, it places BHP and Rio Tinto lower down on the global iron ore cost curve—compared to Vale.
The bulk of Cliffs Natural Resources' (CLF) volumes are only for the US. So, the changes in freight rates shouldn't impact it much.
To learn more about the cost curve, read Must know: An overview of the iron ore industry.
Article continues below advertisement
Decline in freight costs
With the recent decline in the freight rate, this seems to be changing. It used to cost $21 per ton to ship from Brazil to China—compared to $9–$11 per ton from Australia to China in 2014. Freight costs declined dramatically in the last six to eight months. The costs declined mainly due to a drop in the price of bunker fuel—a type of oil used to power large ships.
This brings some cheer to Vale. For Vale, this led to a decline of ~$11 per ton of freight cost. Now, it hovers around $10 per ton. There was a decline of $4 per ton for its Australian peers. In Australia, the freight costs are around $5–$6 per ton. This makes the incremental cost of shipping from Brazil to China only $5–$6 per ton higher—compared to the previous difference of $12–$15 per ton.
However, this won't be the exact impact on Vale's costs. Vale isn't fully exposed to spot freight. Also, it has long-term contracts or leases with the shipping companies. It also own Valemax ships. It will benefit from declining bunker fuel costs.
The SPDR S&P Metals and Mining ETF (XME) invests in the stocks mentioned above. It provides diversified exposure to this sector.
To learn more about Valemax ships and its strategic importance for Vale, read Valemax ships sail Vale SA to cost-effective distribution.