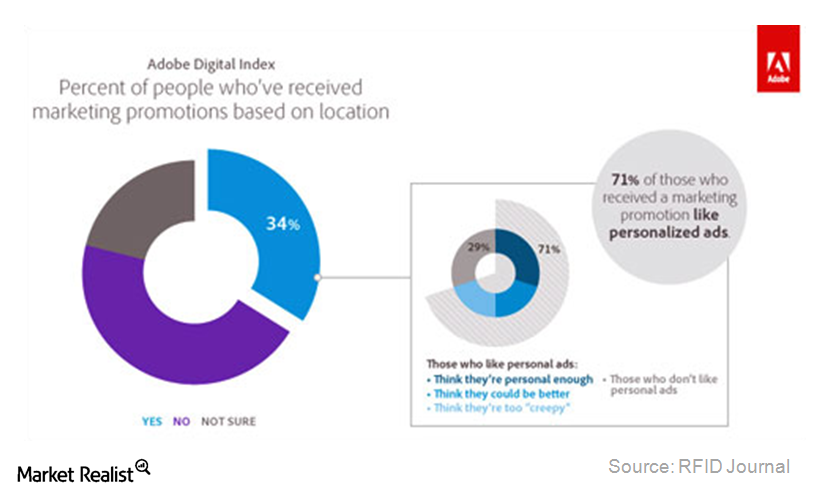 Why location-based technology is promising for Adobe
By Anne Shields

Jan. 23 2015, Updated 11:24 a.m. ET
Location-based technologies have shown strong adoption
According to the Adobe (ADBE) Digital Index (or ADI) team, there has been a strong adoption of location-based technologies like Bluetooth iBeacons (AAPL). The chart below shows the results of a survey that involved 400 US consumers that own a smartphone or tablet who planned to shop online during the holidays. Among these consumers, approximately 34% of respondents reported that they received a marketing promotion based on their location, whereas another 21% were not sure whether they had.
Among the 136 respondents who reported having received such promotions, 71% shared that they would like to have these ads personalized, though their opinions differed on the quality of current personalization efforts.
Article continues below advertisement
Smartphones have added to the popularity of location-based marketing
According to Tamara Gaffney, a principal analyst at ADI, "Beacons are not only changing the retail environment but are finding usage in other avenues as well like travel and hospitality and sports stadiums. Location awareness is coming from all the spheres of life, as people carry their phones everywhere they go."
Marketing Cloud enjoys a strong customer base
Adobe claims that 67% of the Fortune 50 companies use its Marketing Cloud suite. Across its customer base, approximately 2.5 trillion mobile transactions are handled on an annual basis. CBS Interactive (CBS.A), Wyndham Hotels (WYN), Conde Nast, and REI are all Adobe customers. Adobe claims that intelligent location marketing helps companies engage their customers with relevant content and messages based on a user's proximity to iBeacons.