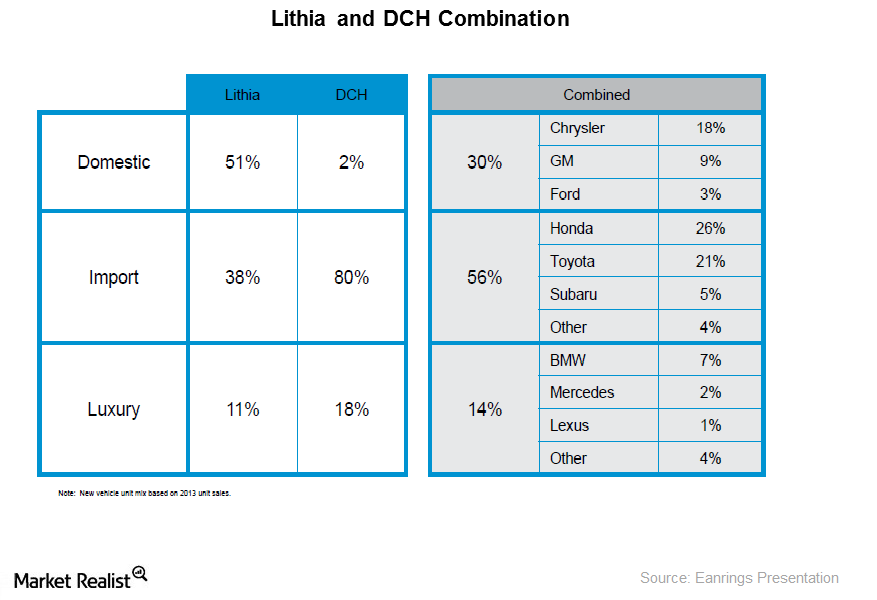 Lithia Motors, DCH Auto Group create a powerhouse auto retailer
By Santiago Solari

Jan. 28 2015, Updated 4:18 p.m. ET
Transaction overview
In 2014, Lithia Motors (LAD) continued to pursue its acquisition-based growth strategy. In October 2014, Lithia completed its acquisition of DCH Auto Group for an estimated price of $669.5 million. The transaction comprised payment of $364 million in cash, issuance of $22.5 million in equity capital, borrowing $230 million of vehicle floor plan debt financing, and assuming $53 million of non-floor debt.
Article continues below advertisement
About DCH
DCH Auto Group generates annualized revenues of $2.3 billion and is one of the ten largest dealer groups in the US. DCH Auto Group operates with a metro market strategy, with 14 stores in Southern California and 13 stores in greater New York and New Jersey. The company focuses on the imported and luxury vehicle segments, with 98% of its revenues coming from these two vehicle segments. Honda and Toyota's midline vehicles account for about 44% and 30% of the company's vehicle sales, respectively. Luxury brands Acura and Lexus contribute to 5% and 3% of total vehicle sales, respectively.
DCH dealerships will continue to operate under their current management and carry the DCH banner on their properties.
Deal benefits
This business combination unlocks access to metropolitan markets for Lithia Motors. With combined revenues of ~$7.0 billion, the combination makes Lithia the fifth largest automobile dealer in the US, behind only Autonation (AN), Pesnke (PAG), Group 1 (GPI), and Sonic Automotive (SAH). The acquisition provides Lithia with an opportunity to increase its lease penetration levels, as it currently leases only about 6%–7% of its new vehicles, while DCH leases about 40% of its new vehicles.
This transaction also sets up two growth paths that more than doubles potential acquisition targets as Lithia Motors can target midmarkets for domestic and import stores. On the other hand, DCH can target the extra large and megamarkets for import and luxury stores.
Management comments
Bryan DeBoer, president and CEO of Lithia Motors, remarked, "For the past several years, we have been seeking a strategic partner to help us to enter the Eastern United States. The DCH organization is an ideal fit with our existing team. We share similar strategic goals and core values, and have complementary strengths. DCH has proven their ability to 'Deliver Customer Happiness' while executing a high volume strategy in metro markets. Lithia embodies continuous improvement and produces sector leading operating efficiency. Together, the organization will be able to grow in multiple markets, learn from each other, and deliver improved efficiencies due to scale."