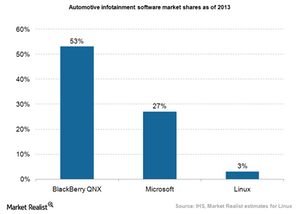 Linux set to compete with BlackBerry in the auto sector
By Puneet Sikka

Jan. 26 2015, Updated 4:13 p.m. ET
Apple CarPlay and Google Android Auto opt for BlackBerry QNX
In the previous part of this series, we looked at BlackBerry's (BBRY) QNX software. The dominant automative infotainment software, QNX had a share of 53% in this market in 2013, according to IHS Automotive. BlackBerry QNX is followed by Microsoft (MSFT) with a 27% share and Linux with 3%, as the chart below shows.
Apple (AAPL) CarPlay and Google (GOOG)(GOOGL) Android Auto have also recently opted for QNX software, which is another big win for BlackBerry.
Article continues below advertisement
CarPlay is a system that allows you to activate Siri through your car's native interface or by hitting the voice control button on your steering wheel. Siri is an application that recognizes human voice and responds with an answer or action. For example, Siri can help make calls, return missed calls, play songs, or provide directions.
Apple partners with 15 auto manufacturers on CarPlay, including Ferrari, Mercedes-Benz, and Volvo.
Similarly, Android Auto is a voice-activated tool used to connect an Android-based smartphone to a car. This is Google's attempt to make you drive more safely while using your smartphone.
Linux OS threatens BlackBerry's QNX
The IHS Automotive report suggests that BlackBerry and Microsoft will lose market share to Linux operating system (or OS) in the future. Apparently, Linux is set to become the leader in the automative infotainment operating system market.
The most attractive feature of Linux OS is its open-source nature, which means that automakers can customize features according to their needs. Automakers such as GM (GM) and Tesla (TSLA) have already started to adopt Linux, as it provides them with better control over their automotive systems.
The IHS report predicts that global sales of Linux OS in automobiles will increase from less than 1 million in 2013 to 53.7 million in 2020. As well, the overall market will increase to 130 million units by 2020.