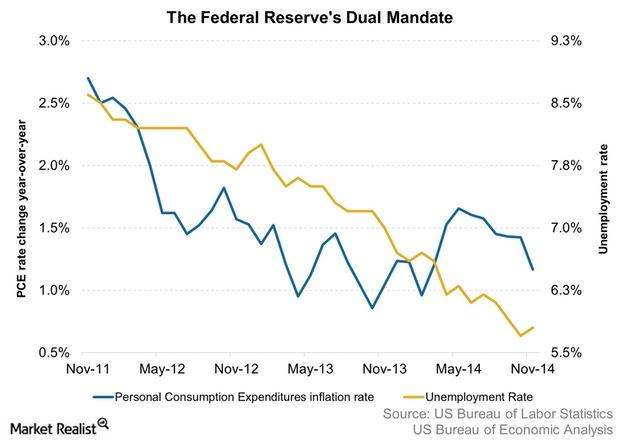 Kocherlakota's thoughts about monetary policy stimulus in 2015
By David Ashworth

Dec. 4 2020, Updated 10:52 a.m. ET
Federal funds rate
Narayana Kocherlakota favors a more accommodative stance by the Fed. After reviewing the FOMC's (Federal Open Market Committee) performance in the past three years, he moved to his views on how the FOMC should act in 2015. He was a voting member of the FOMC in 2014. This year, he was rotated out of his voting power.
Kocherlakota focused on the question "Should the fed funds rate target range be raised soon?" In his estimation, it will still be "a few years" before PCE (personal consumption expenditure) inflation returns to the Federal Reserve's target of 2%. Since monetary policy actions only affect prices 1.5 to two years after implementation, a rate increase in the fed funds rate's target range would "only further retard the pace of the slow recovery in inflation."
Article continues below advertisement
In his opinion, if the inflation rate slowed more, it would hurt the credibility of the Fed's 2% inflation target. A prolonged period below its target range could cause people to think that the Fed was actually targeting a lower inflation rate than its target. Concluding his argument, he said that "the FOMC can best achieve its macroeconomic objectives by not raising the fed funds rate target this year."
Impact on unemployment
The Fed is advocating a "patient" stance. Kocherlakota said that this would benefit the labor market as well. More accommodative Federal Reserve policies would push unemployment down. The FOMC can afford to do this—given the soft inflation readings. He added that "employment increases are always consistent with the pursuit of maximum employment that Congress has mandated for the FOMC."
An increase in employment should push wage growth higher. This hasn't happened yet. It would give Americans more money to spend. Consumer spending is always welcome news. It increases companies' profits—for example,  Procter & Gamble Co. (PG), Home Depot (HD), and Amazon.com (AMZN). Higher profits are positive for consumer staples (XLP) and discretionary ETFs (XLY).
In the remaining parts in this series, we'll look at Kocherlakota's remarks on letting the FOMC use its discretion to conduct monetary policy.