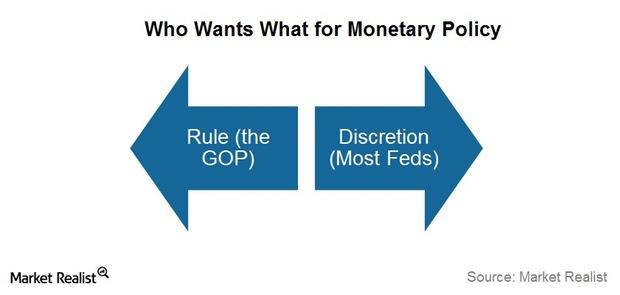 Why Kocherlakota wants the Fed to be free in its decision making
By David Ashworth

Dec. 4 2020, Updated 10:52 a.m. ET
Kocherlakota's presentation
Narayana Kocherlakota is the president of the Federal Reserve Bank of Minneapolis. He gave a presentation at the annual American Economic Association conference on January 4, 2015 in Boston. The topic of his presentation was "Rules versus discretion: A reconsideration." He was firmly in favor of letting the Federal Reserve, or Fed, be free in its decision making.
Article continues below advertisement
Why it's important
It's important for investors to know the developments on this front. Currently, the Fed uses its discretion to decide the federal funds rate. The adoption of a rule-based interest rate setting regime could have significant implications on the timing of rate changes. Rate changes affect Treasuries and stocks.
ETFs—like the iShares Barclays 1-3 Year Treasury Bond Fund (SHY), the Vanguard Total Bond Market ETF (BND), and the iShares Core U.S. Aggregate Bond ETF (AGG)—react to changes in the interest rate. Equity ETFs—like the SPDR S&P 500 ETF (SPY) and the SPDR Dow Jones Industrial Average ETF (DIA)—also watch for these changes.
What the Republicans want
The Republicans are also known as the GOP (Grand Old Party). They won the US Senate in early November 2014. As a result, they control the House and the Senate. This result disappointed the Democrats and the Federal Reserve. Even before the Senate elections, several House Republicans thought that the Fed should tie its interest rate decisions to a formal rule.
By rule, the indication was to tie the decisions to a mathematical equation. This would make it easier for Republicans to make the Fed more accountable for its decisions. The bill was introduced by Republican Representatives—Scott Garrett of New Jersey and Bill Huizenga of Michigan. Section 2C of the bill required the Fed to submit a directive policy rule to appropriate congressional committees and the Comptroller General of the United States.
In the next part of this series, we'll look at the Fed's side of the story.