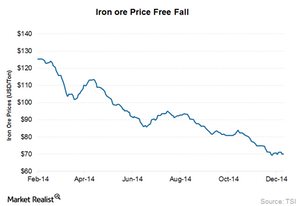 Key indicators to watch when investing in iron ore companies
By Anuradha Garg

Updated
The dynamics of the iron ore industry
Like any other industry, the iron ore industry is impacted by a number of factors, such as iron ore's demand-and-supply situation and the growth and growth stage of world economies.
Of all the world's economies, China consumes the most iron ore and is responsible for about two-thirds of seaborne iron ore imports. Thus, various China-related factors impact the iron ore industry most significantly.
Article continues below advertisement
What we'll cover in this series
In this series, we'll discuss key metrics that drive the iron ore industry. First, we'll talk about production and future supply plans for the major companies and about exports from the major ports in Australia and Brazil.
On the demand side, we'll look at factors such as steel production, iron ore imports, and PMI (Purchasing Managers Index).
Moving toward a broader context, we'll talk about factors such as the credit situation and the real estate market that both have a fallout impact on demand and supply for steel and, ultimately, iron ore.
Finally, we'll look at iron ore futures and see how they move with the current industry dynamics.
Iron ore is among the worst performing commodities of 2014 with a fall of 49%. At the end of this series, we'll try to provide a perspective based on the above indicators regarding the direction of iron ore prices in the future.
Holistic view
Most of these indicators are published monthly, while others are reported weekly or quarterly. Those investing in iron ore should looked at the indicators collectively since they give cues about the direction of iron ore prices. Ultimately, they provide share prices for companies such as Rio Tinto (RIO), BHP Billiton (BHP), Vale S.A. (VALE), and Cliffs Natural Resources (CLF), and ETFs such as the SPDR S&P Metals and Mining ETF (XME).