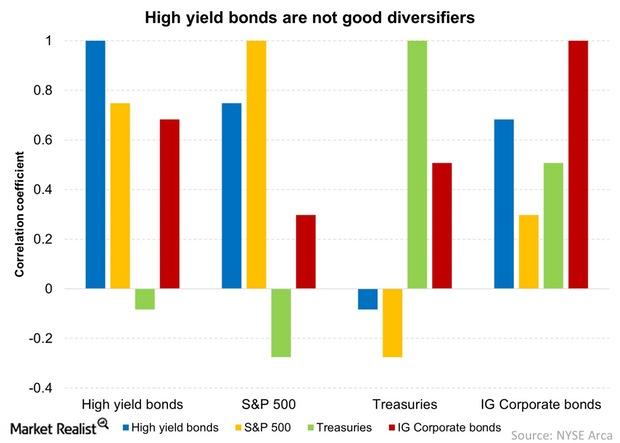 Why Junk Bonds Are Not Good Diversifiers
By Matt Tucker, CFA

Nov. 20 2020, Updated 12:32 p.m. ET
What's the bottom line for how investors should think about high yield?  As an asset class that offers some of the largest yields in fixed income markets high yield can play a role in generating income for a portfolio, but investors should be mindful of the increased risk relative to many other fixed income sectors. High yield's best role is as a source of income in a broadly diversified portfolio.
Article continues below advertisement
Market Realist – Junk bonds are not good diversifiers
The asset correlation matrix above shows the correlation coefficients between Treasuries, high yield bonds, investment grade corporate bonds, and the S&P 500 (SPY)(IVV). The iShares Barclays 7–10 Year Treasury Bond Fund (IEF) tracks Treasuries, and the iShares iBoxx $ High Yield Corporate Bond ETF (HYG) tracks high yield bonds. Lastly, the iShares iBoxx $ Investment Grade Corporate Bond Fund (LQD) serves as a proxy for investment grade corporate bonds. The matrix uses monthly returns for ten years.
From a portfolio diversification point of view, the correlation between two asset classes should be close to zero. A correlation coefficient of one means the two assets move together proportionately, while a correlation of minus one means the two asset classes move in opposite directions.
High yield bonds correlate highly with equities, as shown by the correlation of 0.75 for the last ten years. High yield bonds have a correlation of 0.68 with investment grade corporate bonds, showing a moderate relationship. As a result, junk bonds are not good diversifiers.
At the end of the day, you should look at high yield bonds from an income perspective rather than from a diversification perspective. Also, the portion of high yield bonds that you have in your portfolio should depend on your appetite for risk.
For more on high yield bonds, read our series, Sector allocation: An ETF strategy for rising rates.