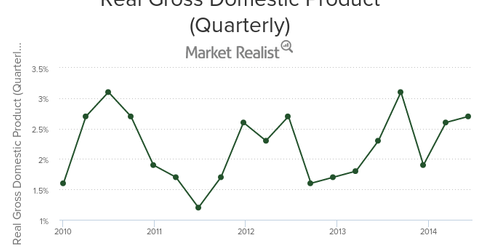 What investors should know about GDP growth
By Surbhi Jain

Jan. 16 2015, Updated 5:55 p.m. ET
GDP growth
In his speech on January 9, Jeffrey Lacker—chief of the Federal Reserve Bank of Richmond—analyzed the past, present, and expected gross domestic product, or GDP, growth in the US. Since the 2009 recession, Lacker noted that the overall pace of real GDP has been sluggish.
However, in recent quarters, growth increased. Real GDP grew at an average 2.7% over the last year—compared to the 2.1% average growth rate over the last three years. There have been short-run growth spurts in the past as well. This time, the increased growth will likely be sustained. Critical economic indicators showed marked improvement.
[marketrealist-chart id=208053]
Article continues below advertisement
What drove real GDP growth?
The labor market improved over the last four quarters. Payroll employment grew at an average rate of 185,000 jobs per month over the previous three years. It improved to an average rate of 246,000 jobs per month in the past year. The year ended in December.
The consumer sector increased. In recent months, an increase in business investment added to the overall economic growth.
Improvement in the labor market and the consumer sector can also be gauged by the improved performance of consumer ETFs—like the Consumer Discretionary Select Sector SPDR Fund (XLY) and the SPDR S&P Retail ETF (XRT). These ETFs have seen a continuous upward trend in performance since the recession.
In contrast, the SPDR Gold Trust (GLD) and the iShares Silver Trust (SLV) declined since 2011. The United States Oil Fund (USO) tumbled in the past year. It was volatile in previous years.
What tapered growth?
Residential investments, government spending, and exports moderated the GDP growth. They continue to be areas where the results haven't been that favorable for the economy.
Growth expectations in 2015
The recent spurt in growth seems sustainable. According to Lacker, the economy could see real GDP grow of 2.5%–3% in 2015. In case the high-growth scenario doesn't pan out, the economy could take a moderate growth path. Growth could temper down to 2.25%.