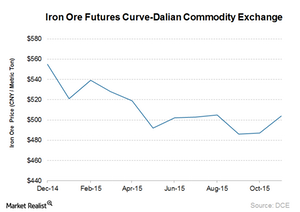 Investors should keep an eye on iron ore futures contracts
Why are iron ore futures important?
A commodity futures contract is an agreement to buy or sell a particular amount of commodity at a fixed price on or before a certain date. Buyers use these contracts to avoid the risks associated with price fluctuations. Sellers use them to try to lock in prices for their commodities.
Futures contracts depict market sentiment and expectations regarding the future demand, supply, and price for a particular commodity. These contracts reflect current market conditions in future prices. Investors should keep an eye on futures contract prices and fluctuations to get an understanding of market expectation about future prices.
Article continues below advertisement
Backwardation in iron ore futures
The Dalian Commodity Exchange (or DCE) iron ore forward curve is still in backwardation. Backwardation occurs when futures contracts trade below the spot price and the futures curve begins to slope downward. This means that the market expects a further decline in iron ore prices based on current indicators and fundamentals.
This is mainly due to the supply surplus owing to low-cost supply additions that outpace demand growth. China, the largest consumer of iron ore that consumes close to two-thirds of the seaborne iron ore in the world, is currently experiencing a supply surplus. So China is the main contributor to the backwardation in iron ore. The market condition opposite to backwardation is called contango.
How backwardation affects companies
The losses in futures could prolong iron ore's retreat. Backwardation in the iron ore futures curve indicates negative market sentiment about future prices. The decline in futures prices is negative for companies such as Rio Tinto (RIO), BHP Billiton (BHP), Vale S.A. (VALE), and Cliffs Natural Resources (CLF). It's also a negative for funds that invest in iron ore companies such as the SPDR S&P Metals and Mining ETF (XME).