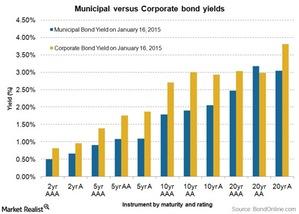 Investors should consider investing in municipal bonds
By Surbhi Jain

Updated
Municipal bonds versus corporate bonds
Municipal bonds are an attractive investment choice for investors seeking a steady stream of tax-free income. In most cases, interest income earned from investment in municipal bonds is exempt from federal and state tax.
For this reason, investors falling in a higher tax bracket often divert part of their investments into municipal bonds. This reduces their tax liability. Municipal bonds become more attractive as the deadline for filing income tax returns gets closer!
Article continues below advertisement
Municipal bonds are also a safer bet—compared to corporate bonds. Corporate bonds have a higher default risk. The probability of a corporation defaulting is typically higher than the probability of a municipality defaulting. However, yield-seeking investors may prefer corporate bonds. Corporate bonds generally get a higher return—in lieu of the higher risk—compared to municipal bonds.
US municipal bond market gained in 2014
Throughout 2013, the demand for municipal bonds plummeted in the US. This made yields high. It was due to:
News of the Federal Reserve's indication that it was looking to taper its monthly asset purchase program—signaling a future rate increase
News of Detroit's bankruptcy filing
As a result, the performance of the municipal bond market, as gauged by the Bank of America Merrill Lynch Master Municipal Index, fell by 2.84% in 2013. Also, the returns on Treasuries and high-grade corporate bonds were in negative territory in 2013. As a result, investors moved into more promising equities.
In 2014, the municipal bond market saw some recovery. The municipal bond market is tracked by ETFs—like the SPDR Nuveen Barclays Capital Municipal Bond ETF (TFI) and the iShares S&P National Municipal Bond Fund (MUB). ETFs—like the SPDR S&P 500 ETF (SPY), the iShares Core S&P 500 (IVV), and the iShares S&P 100 (OEF)—track broad stock market performance in the US.