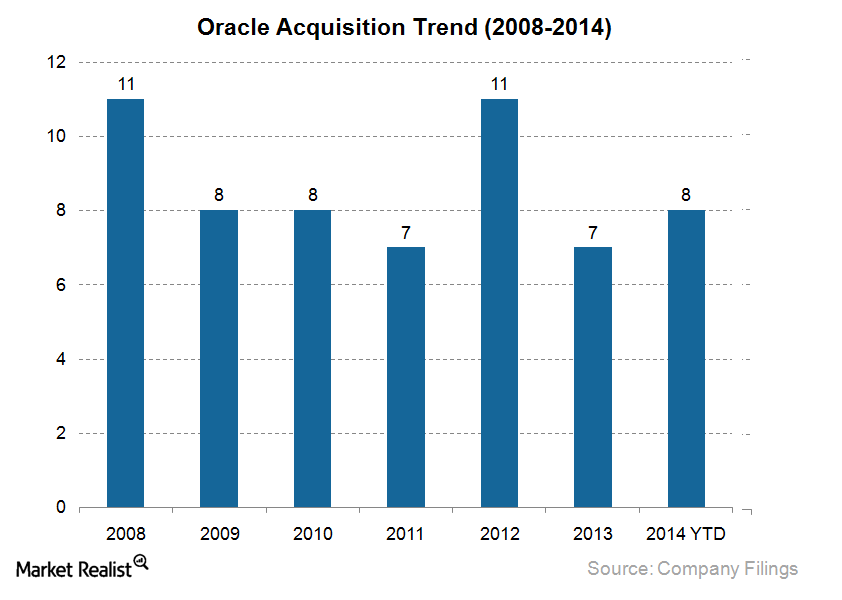 What are investors' concerns with Oracle stock?
Revenue growth is still elusive
Oracle (ORCL) has been struggling to accelerate its revenue growth. In the last 13 quarters, Oracle hasn't been able to record more than 4% year-over-year (or YoY) revenue growth.
Oracle is going through a transition phase, where it's moving away from collecting large payments for software licenses, or licensing revenues, to the cloud model. In the cloud model, Oracle sells software on a monthly subscription basis. Revenue from Oracle's new software licenses fell 3.58% to $2.05 billion as compared to $2.12 billion in 2Q14.
Article continues below advertisement
Oracle's acquisition strategy will be questioned
Oracle has been implementing its acquisition strategy to gobble up cloud companies in order to access domain expertise and get entry into new markets. The above chart shows the quantity of acquisitions Oracle has completed since 2008.
Oracle's recent acquisitions have been discussed throughout this series. However, one thing that remains unclear is whether Oracle will be able to keep the acquired companies' customers. Sooner or later, Wall Street along with Oracle's investors and shareholders will question the integration and synergy of Oracle's acquisitions.
Oracle's future share price performance will provide a clearer picture as to how the market perceives is acquisition strategy. Its peer SAP AG (SAP), who is also eyeing the cloud space for its growth, is forgoing acquisitions, and has instead shifted its focus towards organic growth. On the other hand, IBM (IBM), another industry peer, is using acquisitions to push itself into the cloud space.