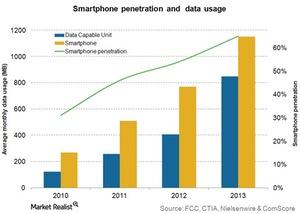 What are important trends in the wireless industry?
By Ray Sheffer

Updated
Trends in wireless
In mid-2011, wireless penetration crossed the 100% mark. The entire US population was using a wireless phone. However, in a saturated market like the US, wireless services grew steadily. Wireless services grew at an annual rate of ~6% from 2011 to 2013. During this period, wireless grew predominantly by increased usage—particularly from data services.
Article continues below advertisement
Data drives wireless growth
Before 2011, one of the key factors that led to wireless services' growth was customers' migration from wireline to wireless. In recent years, data services are fueling the wireless segment's growth. As you can see in the above graph, wireless data usage increased at an annual rate of 44% from 2010 to 2013. The growth was much higher than the annual 4% rise in the usage of voice services during the same period.
Some of the key factors that contributed to the significant data usage growth include customers' adoption of new devices, declining prices, and growing internet traffic. Please read Telcos look to leverage future data consumption growth to learn more about the current trend.
Smartphone adoption
Mobile computing and smartphones' increased connectivity led to significant growth in their adoption rates. Smartphone penetration increased from 31% in 2010 to 65% in 2013. Revenue per smartphone is higher than mobile phones' revenue. Therefore, increased smartphone adoption translated into higher revenues for wireless telecom companies.
Article continues below advertisement
Low unit costs
The decline in mobile data's unit costs from $0.10 in 2010 to $0.03 in 2012 supported the usage growth. During the period, bundling voice services with data plans also helped telecom companies reduce per unit wireless costs.
Surge in the internet traffic
Apart from smartphone adoption, data usage also increased significantly due to the overall growth in Internet activity. According to Cisco (CSCO), IP traffic in the US increased annually by ~34% from 2010 to 2013. The rise of social networking and the steep increase in consumer video traffic fueled this growth.
The four national wireless carriers—AT&T (T), Verizon (VZ), Sprint (S), and T-Mobile (TMUS)—continue to benefit from the growing internet traffic.