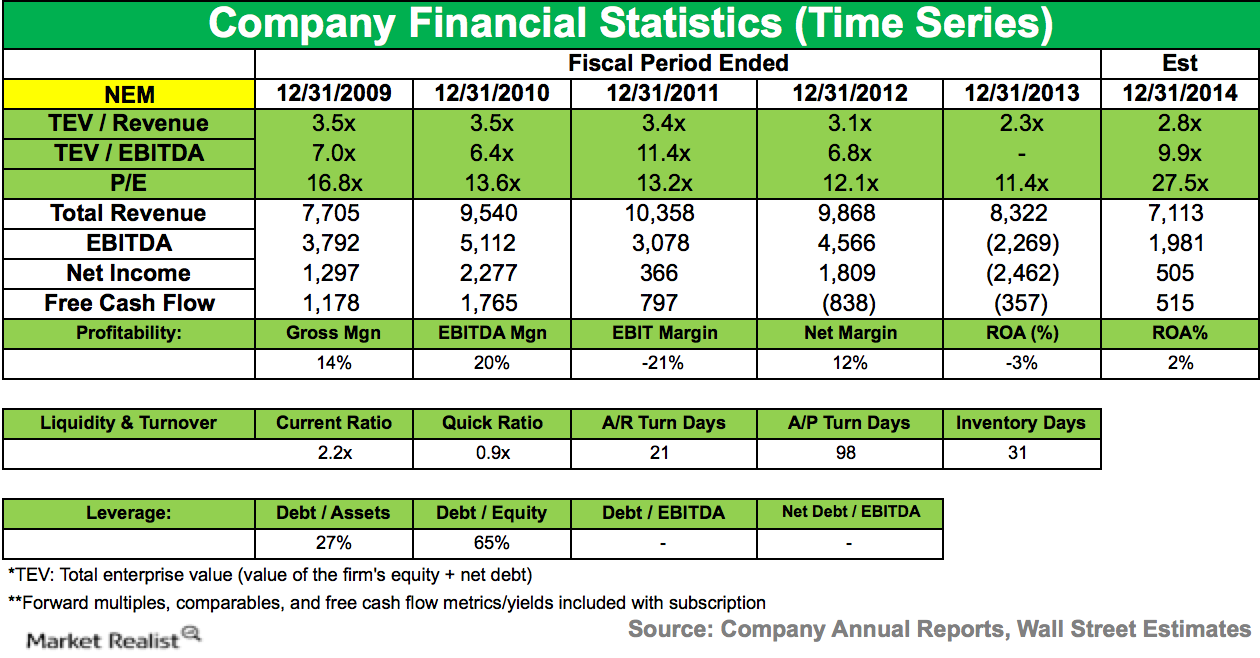 Horseman Capital reduces its position in Newmont Mining
Horseman Capital and Newmont Mining
Horseman Capital lowered its position in Newmont Mining Corp (NEM) in 4Q14. The stock accounts for 2.43% of the firm's total portfolio, down from 3.60% of the fund's 3Q14 portfolio.
Article continues below advertisement
About Newmont Mining
Newmont Mining is one of the world's largest gold producers and is the only gold company included in the S&P 500 Index and Fortune 500. Newmont is engaged in the exploration for and acquisition of gold and copper properties. It has operations in the United States, Australia, Peru, Indonesia, Ghana, Mexico, Suriname, and New Zealand.
As of December 31, 2013, the company had 88.40 million ounces (or Moz) of gold reserves and aggregate land position of 62,000 square kilometers.
3Q14 results beat market expectations
Newmont reported net income of $210 million, or $0.42 per basic share, compared to $419 million, or $0.84 per basic share, in 3Q13.
Adjusted net income was $249 million, or $0.50 per basic share, compared with $217 million, or $0.44 per basic share, in 3Q13.
Revenue was $1.7 billion compared to $2 billion in 3Q13. Average realized gold and copper prices were $1,270 per ounce and $2.71 per pound, respectively, compared to $1,322 per ounce and $3.10 per pound, respectively, in 3Q13.
The company produced 1.15 Moz of gold, compared to 1.28 Moz in 3Q13, at all-in sustaining cost (or AISC) of $995 per ounce. Cost was down from $1,018 per ounce in 3Q13. Gold production was down for two primary reasons:
North American volumes were lower primarily due to planned stripping campaigns at Carlin and Twin Creeks, which are expected to continue into 2015.
Australian volumes were lower due to the sale of Jundee in July 2014.
Article continues below advertisement
The company produced 13,700 tonnes of copper at AISC of $6.61 per pound. Production was down from 19,200 tonnes and copper costs rose from $3.24 per pound from 3Q13 due to the shutdown in Indonesia. The Batu Hijau mine suspended operations for nine months due to the heavy export taxes from the Indonesian government. The mine resumed operations in late September.
Gold miners are cutting costs to maintain profits in the current environment of falling gold prices.
2014 outlook
For 2014, Newmont expects gold production of 4.7 Moz to 5 Moz at AISC of $1,020 to $1,080 per ounce. The company expects to produce 80,000 to 90,000 tonnes of copper at $3.50 to $3.80 per pound.
To find out more about Newmont, read Market Realist's An investor's guide to Newmont Mining Corporation.
Horseman's key positions in 4Q14
Horseman Capital added a new position in Alibaba (BABA). The fund increased its stake in TJX Companies (TJX), Vipshop Holdings (VIPS), BNY Mellon (BK), Wells Fargo (WFC), and Goldman Sachs (GS). The fund sold its positions in Comerica (CMA), Barrick Gold (ABX), IAMGOLD (IAG), and Harmony Gold (HMY). The fund reduced its stake in Newmont Mining (NEM).