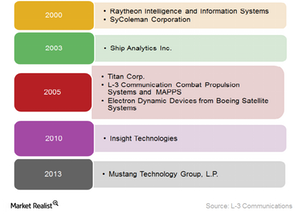 A history of LLL's mergers and acquisitions
By Ally Schmidt

Jan. 7 2015, Updated 4:10 p.m. ET
LLL's mergers and acquisitions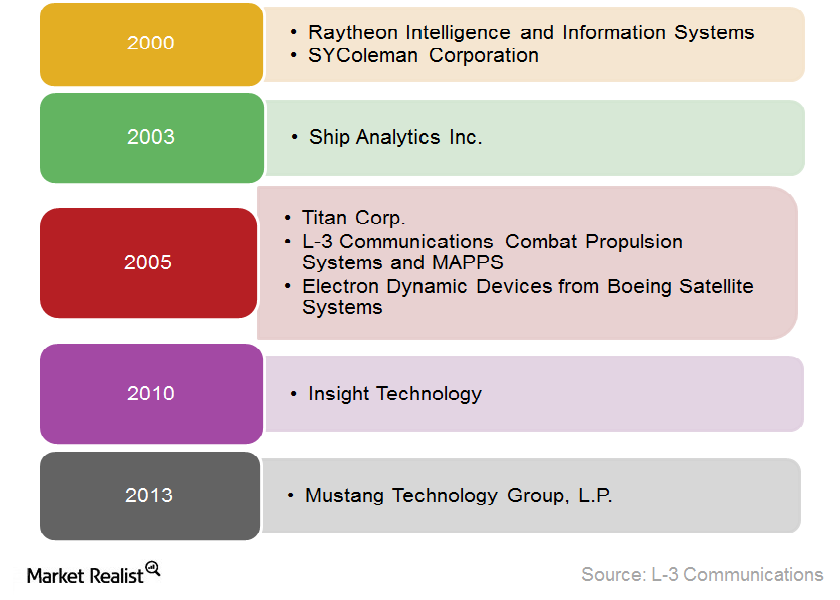 L-3 Communications Holdings Inc. (LLL) was formed in 1997 to acquire certain business units from Lockheed Martin (LMT). Over the next decade, L-3 continued its growth strategy of using mergers and acquisitions, some of which are shown in the chart above.
The company's acquisition strategy consists of buying out businesses to strengthen its own business or to open doors in new market areas. This not only helps L-3 to gain strength in newer markets, but also helps it improve its market share internationally. The strategy is expanding the company's portfolio to business in the aerospace, electronic systems, communications, and security technology markets.
Since its inception, L-3 has grown to be ranked among the country's top defense contractors. L-3 has made more than 50 acquisitions, including Raytheon (RTN) Intelligence and Information Systems.
Article continues below advertisement
L-3 acquired Data Tactics Corporation in March 2014. This added big data analytics, high-speed analytics, and cloud computing services to the portfolio of products in L-3's existing National Security Solutions business. The acquisition supported L-3's growth as a solutions integrator for the national security and international markets. It also helped the company find adjacent markets for its intelligence, surveillance, and reconnaissance business.
Other business strategy
In contrast to other defense contractors like Rockwell Collins (COL), L-3 Communications does not rely on any single platform or program. L-3 has branched itself into numerous product lines and serves a wide array of customer requirements. Primarily, the company targets customers who have very specific needs, providing them with solutions that are difficult to replicate. LLL's mergers and acquisitions strategy helps the company broaden its capabilities and join hands with other players to fulfill customer needs.
Although this strategy has risks that have adversely affected L-3 at times, the company has grown its presence in various business markets by using the strategy over the past 17 years. The success of the strategy is evident from the fact that the company's revenue has tripled in a decade.
L-3 Communications is a major holding of the iShares Dow Jones US Aerospace & Defense ETF (ITA).