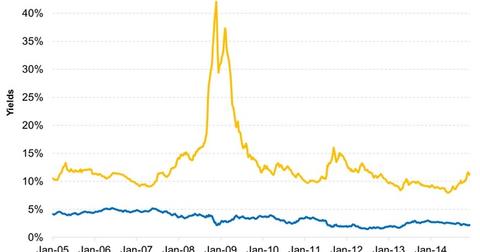 When High Yield Bonds Perform Well, And When They Don't
By Matt Tucker, CFA

Updated
Most investors are aware that high yield bonds have greater credit risk than many other fixed income sectors.  But what might be less appreciated – especially by investors who are new to high yield — is how challenging high yield liquidity can be at times, and how rapidly high yield bond prices can fall in a deteriorating market. Market sell-off is accompanied by rising transaction costs for high yield securities.
Article continues below advertisement
Market Realist – High yield bonds perform well when the economy is improving
Investors consider US Treasury bonds (TLT) to be very safe because the full faith and credit of the US government back them. Hence, investors pay a premium in the form of lower yields to purchase Treasuries. 
On the other hand, investors believe that high yield or "junk" bonds (HYG)(JNK) are quite uncertain because these bonds come with credit risks. While Treasuries have virtually no default risks whatsoever, junk bonds do. To attract investors, junk bonds offer much higher yields.
High yield bond prices are cyclical in nature. When the economy and the credit markets are improving, high yield bonds perform well. Likewise, when the economy and the credit markets are deteriorating, high yield bonds crash as the probability of default heightens. Hence, these bonds tend to be quite volatile. A junk bond has a rating below BBB on Standard & Poor's or a Moody's rating that is below Baa.
The graph above compares the yield on the 10-year Treasury (IEF) with the BofA Merrill Lynch US High Yield CCC or Below Effective Yield. During the Great Recession, the latter crashed, yielding as high as 42%. Meanwhile, Treasury yields have been dipping, as discussed in the first part. Investment-grade corporate bond (LQD) yields fall between the two, skewed towards the Treasuries.