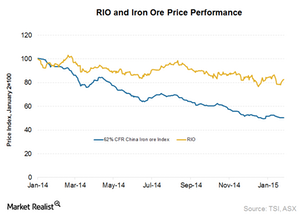 High expectations for Rio Tinto's full year results
Focus on February 12
All eyes are now on Rio Tinto's full year 2014 results due on February 12, 2015, when the company's management is expected to announce some capital management initiatives. At its investor day in Sydney in December 2014, management highlighted that the shareholder returns will improve meaningfully in 2015. Along with the absence of any exposure to oil prices, this led Rio's share price to outperform BHP's share price since August 2014.
Article continues below advertisement
Iron ore play
Although Rio is still known as a diversified player, most of its earnings are from iron ore. Recently, its diversification attempts failed when the $40 billion acquisition of Alcan did not generate expected returns.
Increasing iron ore reliance could mean decreased profitability, and the outlook for iron ore's price remains negative. We aren't sure how much the cost improvements will help sustain Rio's profitability. Most of Rio's share price weakness, ~13.5% in 2014, was attributable to iron ore price weakness, as its price was down ~48%.
Peers
Rio's peer BHP Billiton's (BHP) share price is receiving additional hammering because of its exposure to oil, as well as its management's lack of indication of any capital management initiatives in February 2015.
Rio's other peers, including Vale SA (VALE) and Cliffs Natural Resources (CLF), continue to get battered due to falling iron ore prices and the lack of diversification. RIO forms 11.3% of the iShares MSCI Global Metals & Mining Producers ETF (PICK).