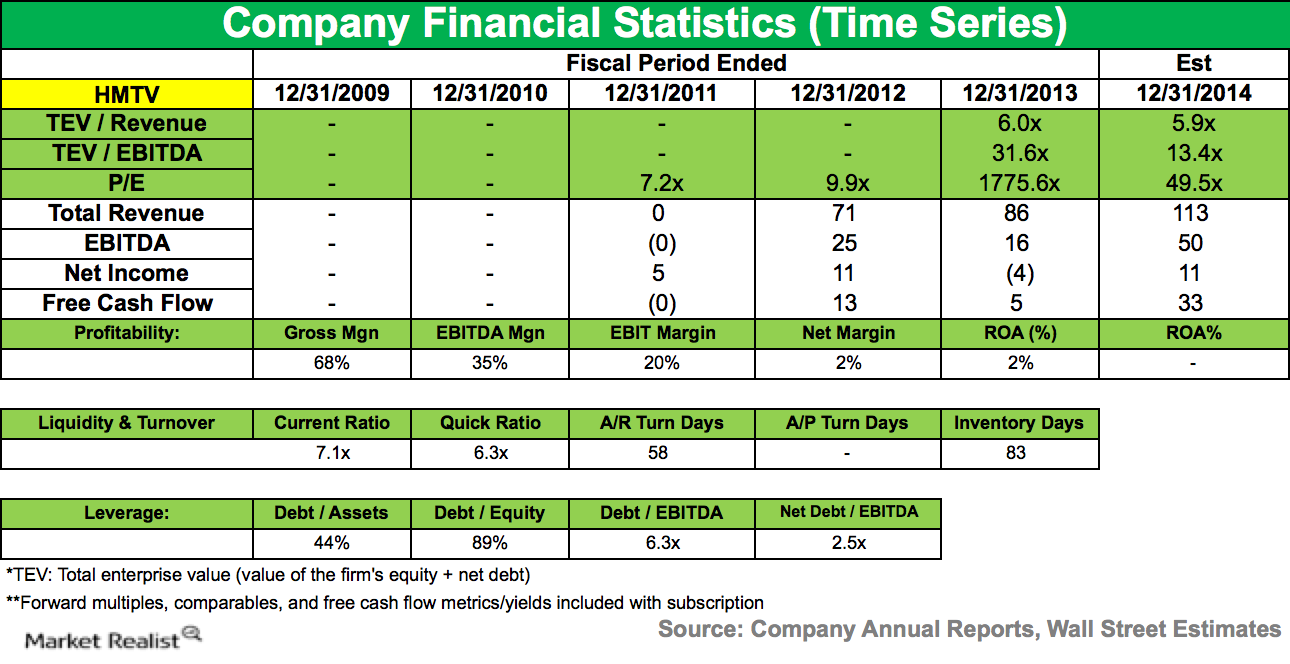 Hemisphere Media Group is the new position for AQR Capital
By Diana Key

Jan. 22 2015, Updated 10:06 a.m. ET
Hemisphere Media Group
In 4Q14, AQR Capital Management initiated a position in Hemisphere Media Group (HMTV). A 13G filing in December noted that the fund owns 446,884 shares, with a passive stake of 3.56% in the company.
Article continues below advertisement
HMTV basics
Hemisphere Media Group is a publicly traded, pure-play US television, cable network, and content platform company serving the Hispanic community. It owns and operates the following leading Spanish-language networks and content platforms:
Cinelatino: ~ 14 million subscribers across the US, Latin America, and Canada
WAPA PR: Main television network and content producer in Puerto Rico
WAPA America: Spanish-language television network in the US
WAPA2 Deportes: Sports television network in Puerto Rico
WAPA.tv: Entertainment and news website in Puerto Rico
Pasiones: Spanish-language cable network offering dramas and telenovelas
Centroamerica TV: Entertainment, news, and soccer programming serving Central Americans in the US
Television Dominicana: Entertainment, news, and baseball programming serving the Dominican Republic community in the US
Hemisphere Media Group takes in advertising and subscription fees, which contribute nearly equally to its revenues. Advertising revenue is generated from the sale of advertising time. Subscriber fees are charged to distributors of all of its television networks.
Strong 3Q14 financials
In April 2014, Hemisphere acquired the assets of the Spanish-language television network Media World. Media World comprises Pasiones, Centroamerica TV, and TV Dominicana, also known as the acquired cable networks.
Hemisphere Media Group's 3Q14 reported net revenues of $28.8 million, an increase of 21% year-over-year (YoY). The inclusion of the acquired cable networks drove the revenue increase, which was partially offset by a decline in advertising revenue. The decreased ad revenues resulted from a decline in the Puerto Rican television advertising market, as well as the decision not to produce Idol Puerto Rico in 2014.
WAPA enjoyed a record rating performance. Its full-day ratings increased by 10% and prime-time ratings increased by 12% YoY.
Article continues below advertisement
HMTV's net income was $0.7 million, compared to a net loss of $4.0 million in 3Q14. Adjusted EBITDA (or earnings before interest, tax, depreciation, and amortization) increased 46% YoY to $12.8 million. The positive operating results of the acquired cable networks and Cinelatino, as well as growth in Hemisphere's combined networks, drove this increase.
On track to achieve 2014 earnings guidance
Hemisphere expects to achieve its full-year earning guidance. It expects its adjusted EBITDA to be in the range of $49 million to $51 million.
Article continues below advertisement
Other hedge fund positions in HMTV
In December 2014, Hicks Muse Tate & Furst Equity Fund III LP took a 19.1% stake in HMTV. Plus, Cinema Aeropuerto took a 17.6% stake in HMTV.
AQR Capital's 13G positions
As reported in its most recent 13G, AQR Capital Management initiated positions in Hemisphere Media Group. (HMTV). The fund also initiated positions in blank check companies Levy Acquisition Corp. (LEVYU) and Collabrium Japan Acquisition Corp. (JACQU). AQR Capital reduced its positions in blank check companies Chart Acquisition Corp. (CACGU) and Capitol Acquisition Corp. II (CLACU).
In the next part of this series, we'll discuss AQR Capital's new position in blank check company Levy Acquisition Corp.