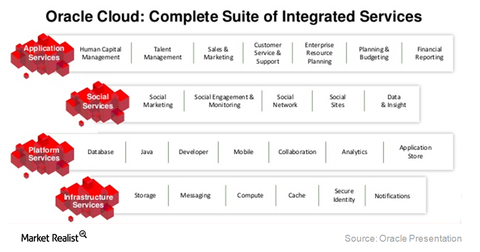 What growth opportunities should Oracle pursue?
By Anne Shields

Updated
Oracle's cloud offerings are seeing recognition
In 2Q15, Oracle's (ORCL) new cloud bookings grew by 140%. In 2Q15, cloud revenues from SaaS, PaaS and IaaS, grew to $516 million at a growth rate of 45%. As we have seen in the earlier part of the series, the cloud infrastructure market is growing at about 50% per year.
Given Oracle's in sync growth rate, Oracle expects cloud bookings to reach $250 million by 4Q14. According to IT Candor, Amazon (AMZN) leads the IaaS space with a 10% market share, while Salesforce (CRM) dominates the PaaS and SaaS space.
ETFs that have significant exposure to Oracle include the PowerShares QQQ Trust (QQQ) and the Technology Select Sector SPDR Fund (XLK). These ETFs are likely to benefit if the company posts positive results.
Article continues below advertisement
The above presentation shows various services that Oracle provides through its cloud platform. Oracle has combined its Rightnow Cloud Service, Oracle Fusion CRM, Oracle CRM, and Oracle Applications to offer a social relationship manager via the cloud-based platform. It is integrated with Eloqua B2B marketing automation platform.
Oracle's portfolio of systems is designed in such a way that hardware and software work together, including the Oracle Exadata Database Machine, the Oracle Big Data Appliance, and the recently announced SPARC M6-32 server, or Big Memory Machine.
Strategic acquisitions to enhance presence in marketing cloud
According to the the IDC (or International Data Corporation), big data and cloud computing have led to an exponential rise in the data center requirements. Industry analysts expect that these new requirements will lead to "two or three major mergers, acquisitions, or restructurings among the top-tier IT vendors in 2015."
As mentioned in the earlier part of the series, Datalogix is the recent addition to Oracle's acquisition portfolio to boost its presence in marketing cloud space. Between October 2013 to February 2014, Oracle strategically acquired three companies: Compendium, Responsys, and BlueKai.
Oracle hopes that these acquisitions will give it a larger footprint in cloud marketing applications. Compendium was a cloud-based content marketing provider that was already integrated with its Eloqua B2B marketing automation platform.Oracle plans to integrate Datalogix to create a data cloud to target digital marketing campaigns.
In 2Q15, Oracle's cloud offerings have posted 45% growth that was in line with the industry's growth, indicating that its initiatives in this space have started paying off.