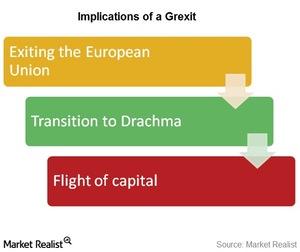 A 'Grexit' could leave the Eurozone holding the bag
By Surbhi Jain

Nov. 20 2020, Updated 5:08 p.m. ET
What investors should know about a "Grexit"
Greece's exit from the Eurozone, also known as a "Grexit," would have more serious and far-reaching consequences than one might ordinarily imagine. A Grexit would not just affect Greece, but Europe (VGK) at large.
Article continues below advertisement
Implications of a Grexit
A Grexit raises four key implications of which investors in Greece (GREK) or the European economy at large should be aware:
European Union instability –  One of the biggest fears is that Greece's exit could prompt other troubled Eurozone economies such as Portugal (PGAL), Spain (EWP), and Italy (EWI) to follow suit. Syriza might act as an example for anti-austerity parties in Spain, Portugal, and Italy.
Currency challenges – The process of transitioning from the euro to the Greek drachma wouldn't be easy for Greece. Without the backing of the Eurozone, investors or creditors may doubt the strength of the Greek currency. For international creditors like Germany, a Grexit would mean getting a haircut on Greek bonds once the debt was converted from euros to the devalued drachma. A lack of confidence in a currency is often a first step toward a run on the banks.
Capital loss – A Grexit might trigger a flight of capital from the country, prompting its government to exercise certain capital control measures to retain foreign investments.
Inflation – A rapidly depreciating currency would also make imports costlier for the Greeks, fuelling inflation and leading to a loss of business confidence.
A Grexit would complicate things for the central bank
Syriza's victory in Greece has renewed debate about the country's options. The population's disregard for the austerity measures imposed on the country by Eurozone policymakers makes the debate over a Grexit a tough one to call.
Meanwhile, the task of the European Central Bank, or ECB, which recently announced its 60 billion euro quantitative easing program, would become that much more difficult. Stock and bond markets across Europe are already wary. Bond yields in Greece and other distressed European countries might shoot up if fears of a Greek exit from the Eurozone aren't quelled.
A weakening euro and a jittery stock market are other aspects investors must pay attention to. Meanwhile, the political change in Greece alone has investors worried about the future of their investments.