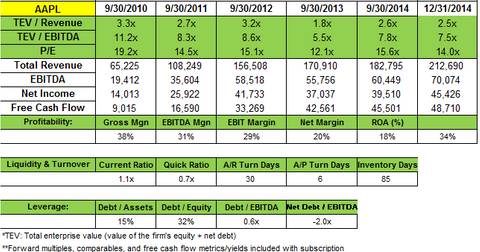 Greenlight Capital gained from 4Q14 long position in Apple
By Samantha Nielson

Updated
Greenlight bullish on Apple
Greenlight Capital also noted in its 4Q14 investor letter that Apple (AAPL) is one of its largest long positions. The stock was also highlighted as a "significant winner" for the fund during the quarter. The fund stated in its letter that the per-share price of Apple rose from $100.75 to $110.38. It added that its newly launched iPhones seem to be selling at record levels.
The fund also noted a 20% increase in earnings per over the last couple of quarters that is expected to "accelerate in the near term." Greenlight added that the "shares remain inexpensive at 14x 2015 estimates and less than 12x net of cash."
Article continues below advertisement
Apple overview
AAPL is based in Cupertino, California. It designs, manufactures, and markets mobile communication and media devices, personal computers, and portable digital music players. It also sells a variety of related software, services, peripherals, networking solutions, and third-party digital content and applications.
AAPL's products and services include the iPhone, iPad, Mac, iPod, Apple TV, iCloud, and the iOS and OS X operating systems. AAPL also sells and delivers digital content and applications through the iTunes Store, App Store, iBooks Store, and Mac App Store.

Apple's 2014 product launches
In 1Q14, Apple introduced iPad Air, its fifth-generation iPad, and iPad mini with Retina display.
At its Worldwide Developer Conference in June 2014, Apple announced iOS 8 and OS X Yosemite.
In September 2014, Apple launched iPhone 6 and iPhone 6 Plus, and it released iOS 8. It announced Apple Pay, which became available in the US in October 2014, and previewed Apple Watch, which is expected to be available in early 2015.
In October 2014, Apple introduced iPad Air 2, iPad mini 3, iMac with Retina 5K Display, and an updated Mac mini. The company also released OS X Yosemite.
Article continues below advertisement
Icahn: Apple's stock should trade higher
Strong sales drove 4Q revenue, earnings despite currency headwinds
The company posted robust 4Q14 results above estimates, with quarterly revenues of $42.1 billion. Its quarterly net profit was $8.5 billion, or $1.42 per diluted share.
Apple credited its better-than-expected 4Q14 earnings to the successful launch of iPhone 6 and iPhone 6 Plus. The company sold 39.3 million iPhones in 4Q14. It had a 16% year-over-year (or YoY) growth rate. Management mentioned that the demand for new iPhones has been staggering. Apple exited the quarter with a significant backlog for the iPhone 6 and iPhone 6 Plus. While iPhone and Mac continued to drive Apple's growth in 4Q14, iPad's unit sales continue to decline.